After a three year in hiatus, the longest reigning member-guest golf tournament format in Davao is back. Indeed, the Durian Tee Invitational golf tournament is celebrating its 31st edition after it's long absence due to the pandemic.
With a total prize amounting to Four million pesos for Hole in One and 600,000 pesos more worth of raffle prizes, the organizers want to ensure that this comeback will create a big bang with this mouthwatering prizes.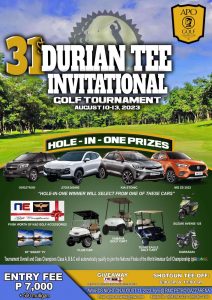 The tournament will feature two daily shotgun starts, one at 6 am and another at 11 am during the four-day tourney on August 10-13, 2023. All players will play only for two days with all their scores to count.
There will be Team and Individual winners of which classifications divided into five divisions namely Class A (9 and below hdcp), Class B (10 to 18), Class C (19 t0 27), Seniors (60 and above) and Ladies (27 handicap maximum).
The organizers will be applying the Molave points system format with handicaps basing on August 1,2023 WHS Index system. The tournament is open only for golfers 18 and above.
All Par 3s of the Apo Golf and Country Club will have designated prizes for the Hole in One winners. Hole No 4 and Hole No 11 will have four SUVs of your choice (Chevrolet Tracker, Jetour Dashing, KIA Stonic or MG ZS 2023) and 100,00 pesos worth of Gift certificate.  Golf carts, motorcycle and TV awaits the lucky golfer who will hit a hole in One in Holes No,7 and Hole 17.
The proceeds of this tournament will go the Durian Tee Foundation which count among its beneficiaries an educational scholarship for the kids of Apo golf employees and caddies.
All participants are entitled to a giveaway upon payment of registration fee which is pegged at P 7,000 per individual or 14,000 per team which includes the green fee, mulligan, raffle ticket and dinner at the awarding and fellowship night on August 13,2023 at the RMC Gym.
For details and information for registration, you may contact and coordinate with the following Van 0998-867-4116; Kyla 0998 868 542 and Beth 0985-437-5991.