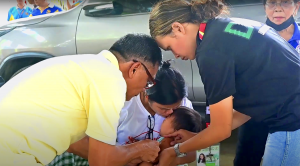 Aboitiz Power Corporation (AboitizPower) and Zamboanga del Norte Electric Cooperative, Inc. (ZANECO) mounted a medical mission for around 200 residents of Barangay Sitog, Katipunan, Zamboanga del Norte. Beneficiaries ranging from 2-70 years old were examined by the doctors from the Rural Health Unit (RHU), received medicines, and underwent various medical procedures like circumcision, dental check-up, and vaccination, depending on their needs.
"All of us at Barangay Sitog are very grateful to AboitizPower and ZANECO for providing us with this project. A lot of these medicines and procedures tend to be overlooked by families and may be hard to buy," Katipunan Mayor Michael Meiko Wong said. "We welcome the support of various institutions to help our barangay remain healthy and productive members of the community."
According to AboitizPower Head of Wholesale Angeli Parcia, community-based initiatives such as this medical mission are organized to address identified social needs.
"AboitizPower looks for ways to advance business and communities. As we continue our partnership with ZANECO, we are mindful of the needs of its member-consumers like access to health-related resources and procedures. Wellness is a basic need everyone should have the benefit of having and so we are appreciative of the openness of ZANECO to partner with us on this project," she said.
ZANECO General Manager, Atty. Jordanne B. Chan-Antonio shared her pleasure with the partnership with AboitizPower and reiterated the importance of adding value to its member-consumers beyond the distribution of electricity.
"We care for the households and businesses who rely on us for power. We also feel a sense of duty to care for their personal needs outside of the utility that we provide," she shared. "Our goal is to support them with other basic needs such as health and wellness as these would also translate into a healthy ecosystem where we can work together to run households and businesses harmoniously."