MANILA – Anyone who's walked into the doors of any McDonald's store in the last few weeks might have noticed something different – perhaps, something better – about their burgers.
Is it that the cheese has gotten meltier? Or maybe that the buns look sort of new, almost like they now come with a tasty-looking glaze? Why does something feel different about the packaging? …And, most importantly, why can't you seem to stop taking one bite after another?
Well, that's because McDonald's has made changes to its burgers, making it their Best-Everrrr Burgers yet!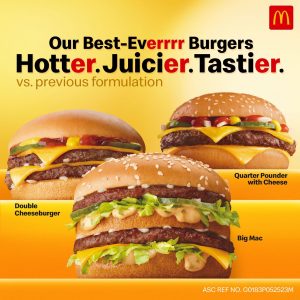 McDonald's burgers have become their Best-Ever in every possible way – we're talking a hotter, juicier, tastier, fresher, softer, toastier, meltier, saucier Cheeseburger, Double Cheeseburger, Quarter Pounder with Cheese, and Big Mac – and the rest of McDonald's burgers, too!
Best-everrrr improvements everywhere
In its aim to provide consumers with a better and tastier experience in every bite, McDonald's has introduced many small changes that make a big difference altogether!
McDonald's is introducing softer buns with a glaze that makes them so much more moist and chewy. The buns also have an upgraded recipe that makes them smell and taste as good as it looks. Once you get a hold of McDonald's' Best-Everrrr Burgers, it'd be hard to miss out on the improved buns, freshly toasted to a golden brown for every order!
Other changes include improvements in preparation that have elevated every single layer of your Best-Everrrr Burgers. Whether it's the meltier cheese, fresher lettuce, onions and pickles, one can't expect anything less from McDonald's' Best-Everrrr Burgers that are here to stay.
Cheese? Meltier! For more cheesy goodness, McDonald's now melts their cheese at a range of 16ºC to 19ºC, letting all enjoy just the right amount of satisfying meltiness with Best-Everrrr Burgers
Sauce? Even saucier! For Big Mac enthusiasts, you're in for a treat! Enjoy a 50% increase in Big Mac Sauce for a richer taste with every bite of your Big Mac.
Vegetables? Fresher! McDonald's has reduced the amount of vegetables stored by 60%, for fresher-tasting veggies such as your lettuce and tomatoes.
Patties? Juicier! Even down to the flattening grill, McDonald's has increased the gap of their patties to ensure that they are flattened less – leading to patties that are all the juicier! Onions are also added directly on top of the patty while cooking, letting you enjoy more of the patty's beefy and savory notes.
Overall? Hotter, Juicier, Tastier! For every order of the Best-Everrrr Burgers, McDonald's closely keeps track of all these improvements, making sure that their Best-Everrrr Burgers taste, smell, feel, sound, and look hotter, juicier, tastier – from your first bite down to your last.
Of course, McDonald's burgers continue to be made from 100% pure beef patties, with no artificial preservatives, flavors, colors, and fillers – in fact, they are responsibly sourced all the way from New Zealand, Australia and South America.
Besides this, you get to support our very own every time you purchase McDonald's burgers as their lettuce and tomatoes are directly sourced from local farmer communities primarily from Benguet and South Luzon. To add, 100% of McDonald's local lettuce farms are compliant with global farm standards and have scored a certification on Global Good Agricultural Practices.
And if you've noticed changes to the packaging, give yourself a pat on the back as your guess is correct! The Double Cheeseburger and Quarter Pounder with Cheese are now served in their own clamshell boxes, meant to not only elevate your Best-Everrrr Burger experience further, but also to keep your burgers in tip-top form.
All in all, these small yet meaningful changes result in one big difference that everyone can enjoy with every hotter, juicier, and tastier bite!
Get a taste of McDonald's' Best-Everrrr Burgers, available via Dine-In, Take-Out, Drive-Thru, and McDelivery; and be sure to download the McDonald's App to be the first to catch exciting deals! On July 20, be on the lookout for Free Cheeseburger coupons via the McDonald's App for you to try their Best Everrrr Burgers, which can then be redeemed from July 21 to July 25.
And if you can't get enough of your hotter, juicier, and tastier free Cheeseburger, watch out for discounts and exclusive deals on Cheeseburger and Double Cheeseburger Meals also via the McDonald's App, available for download on both Apple App Store and Google Play Store. Redemptions may be done via Dine-In, Take-Out, and Drive-Thru.
There is more in store from McDonald's, so be sure to be up to date with everything Best-Everrr Burgers by following McDonald's on Facebook and Instagram.