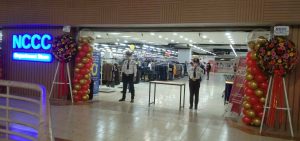 Davao retail chain NCCC Department Store opens at NCCC Mall Bajada on July 16, 2023.
It occupies the second and third floor of the mall. The 10,200 square meter store offers various house brand RTWs, branded apparels, housewares, furnitures, fabrics, bags and luggages, health and beauty items, and footwear and accessories.
Instant prizes and freebies await shoppers with a minimum purchase of 1,500.
The event was attended by NCCC Department Store President  Ivy Michelle Lim, NCCC Chairman Helen Lim, NCCC President/CEO Lafayette Lim, and NCCC Malls President Sharlene Faye Lim.
Since its founding in the 1950's, the New City Commercial Complex(NCCC) has grown into one of the major players in the retail industry not only in Davao City but in the region, as well.
On March 2019. NCCC Mall took over Victoria Plaza, Davao City's first mall established in 1993.