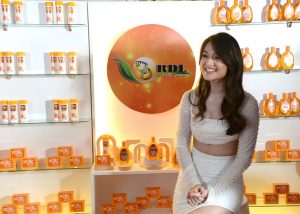 Embracing her natural beauty and confidence, Kira Balinger has signed a contract as the newest face and brand ambassadress of the multinational and leading distributor of beauty pharmaceuticals, RDL Pharmaceuticals, Inc.
The contract signing was held on July 15, 2023 at Alexander Hall of D'Leonor Hotel, Bajada, Davao City.
Balinger said it is an honor for her to be the new face for RDL Kojic Lotion, Soap, and Facial Cleanser.
She  is excited about the campaign to promote RDL, as well as how RDL would continue empowering people all around the world.
Present during the contract signing at D'Leonor Hotel last Saturday, July 15, were Executive Vice President and Chief Operating Officer of RDL Pharmaceuticals Inc., Robert D. Lim, Artist Manager Alan Real, some of RDL marketing and advertising partners, among others.
RDL is a company that believes in the power of natural ingredients and  advocates for safe and effective skin care practices, It chose Kira Balinger, as she fits the brand perfectly and could be a game-changer for the brand itself.
RDL believes that Kira's talents had made her a relatable figure to many, especially to GenZ's like her.
RDL Pharmaceuticals Inc. is a company that is committed to produce safe, innovative and high-quality products to its valued customers both local and international.
It has also a collection of products that provide solutions to the beauty and skin care needs of this generation, with approximately 14 brands.
Astringents, Facial Cleansers, Whitening Lotions, Whitening Soaps, Whitening Creams, Sunblock Creams, Anti-Aging Creams, Face and Body Powder, Cologne and Body Spray are included in their collection.
These have garnered recognition for its undeniable quality, affordability, and efficacy.