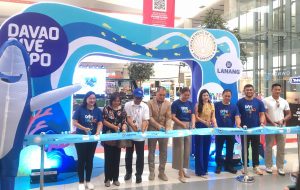 THE DEPARTMENT of Tourism XI launched its three-day Davao Dive Expo 2023 event to promote the region's scuba dive industry and marine life attraction at The Atrium of SM Lanang Premier from July 7 to 9, 2023.
DOT-XI Regional Director Tanya Rabat-Tan emphasized the region's countless potential when it comes to diverse tourism attractions and aqua-sports activities, such as island hopping, snorkeling, skimboarding, free diving, and scuba diving, open for all aspiring divers.
"We will be graced by celebrated dive enthusiasts, industry leaders, and organizations who will willingly share their passion as we altogether uncover the wonders of our seas and continue to advocate for marine conservation and protection," Tan said.
Also, the 2023 Davao Dive Expo will launch new dive sites, exciting dive packages, to further promote and establish better plans for the development of Davao dive's industry.
Among the dive sites featured at the atrium of Sm Lanang Premier are dive sites in the Municipality of Governor Generoso, Pujada Bay Protected Seascape and Landscape in Mati City, and dive sites from Tarragona, Davao Oriental.
The event also included a marine protection forum by conservation experts; underwater photo exhibits of various dive sites in Davao Region, booths of some diving service providers and accredited local dive shops.
The SM Lanang Premier, GoPro, Cebu Pacific, Park Inn by Radisson Davao, El Don Resort, Municipality of Governor Generoso (Davao Oriental), the Philippine Commission on Sports Scuba Diving, other local government units, and other partner organizations graced the event.