Presidential Assistant for Eastern Mindanao Leo Tereso Magno spearheaded the awarding of computerized title (c-title) to 1,000 Dabawenyo farmers on July 7, 2023, at the Arcadia Even Center, Quimpo Blvd., Davao City. The farmers who received their c-title are Agrarian Reform Beneficiaries (ARB) who previously received their Certificate of Land Ownership Award (CLOA) from the Department of Agrarian Reform.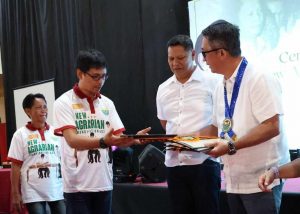 Magno congratulated the recipients of the c-titles and asked them to take care of the land and till them to alleviate their family's economic situation. Aside from the awarding of c-titles to the 1,000 ARBs, the event also launched the enactment of the New Agrarian Emancipation Act which makes the farmers debt-free.
Through the New Agrarian Emancipation Act, the farmers can now devote more resources to their lands instead of paying their debts to the government.
The awarding of c-titles is part of the campaign promise of President Ferdinand Romualdez Marcos Jr. that he will speed up the distribution of landownership. Magno also congratulated DAR Sec. Conrado Estrella III for his hard work and efforts in pursuing a better life for our farmers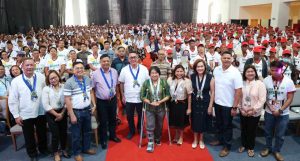 "To our dearest DAR Sec. Conrado Estrella III, a very good friend of mine. Your effort has now paid off. 1,000 farmers now received their c-titles. This is because of your perseverance to help our farmers," he said.
Magno told the farmers that the Office of the Presidential Assistant for Eastern Mindanao would always be willing to help them lobby their concerns to the Office of the President through the Office of the Special Assistant to the President. (OPAMINE)