The Department of Tourism XI continues to push for dive tourism as it conducts the second year of the Davao Dive Expo, which kicked off today, July 7, Friday at SM Lanang.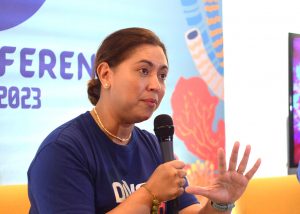 "The endless wonders and discoveries our vast and deep seas have led us again to come together for this three-day expo. Among our diverse tourism products, one of those that we take pride the most, are our clear and pristine waters that serve as home to an assortment of exceptional marine biodiversity," said DOT Xl Regional Director Tanya Rabat Tan during the event's opening ceremony.
Davao Region, with around 1,600 square kilometer coastline, is blessed with diverse types of beaches, islands, reefs, and surfs where many of its popular aqua-sports activities, such as scuba dive and freediving, take place.
To showcase the region's dive destinations, products and services, this year's Davao Dive Expo features an array of exhibitors from various dive companies and destinations, a marine conservation forum, and an underwater photo exhibit for the three-day event.
This year's expo also became an avenue to launch a new dive site in the region, located in Barangay Tagabebe in the Municipality of Gov. Generoso, Davao Oriental.
DOT Xl flew in dive and marine biodiversity experts from Manila, Batangas and Cebu to explore three dive sites in the said area.
"We were able to visit Punta ni Juan and Ashley's Corner, both located at The Wall, and Janella's Garden. We have identified 14 dive sites in our municipality," said Juan Miguel Inojales, the diving coordinator of Gov. Generoso.
The Wall is a 16-kilometer long vertical underwater terrain that drops dramatically down for hundreds of meters brimming with gardens of corals and marine wildlife.