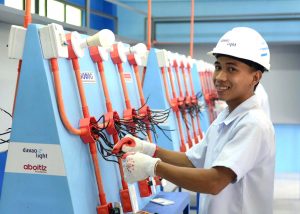 In the halls of Biao National High School, 21-year-old grade 12 student Oliver Pepito hunches over an electric circuit board, mechanically probing and soldering, inside the school's new laboratory.
Equipped with modern equipment, the room is a stark contrast to the school's old walls and rickety doors. But those details are irrelevant to Oliver as he concentrates on visualizing in his mind the direction and purpose of what appears to be a helter-skelter of wires before him.
The school was named as one of the beneficiaries of a fully furnished laboratory for electrical installation and maintenance (EIM), dubbed Project e.Lab. It was a gift from Aboitiz Power Corporation (AboitizPower) subsidiary, Davao Light and Power Company (Davao Light), in partnership with Aboitiz Foundation Inc. (Aboitiz Foundation), as part of their advocacy to help nurture young minds.
Oliver said the laboratory is essential in applying what they learn from lectures and textbooks.
"Dako kaayo ug natabang and advantage sa amoa tungod ani na actual na ang lecture sa among maestro dili pareha atong isa ra among wiring board mag paabot pami kay isa ra man. Di pareha ani karon mag-sabay sabay nami perform and na enhance among kahibalo (It's a big help and advantage for us. Because of this [facility], our instructor can share actual lectures [while we work], unlike before when we had to take turns since we only had one wiring board. Now, we can simultaneously perform, which enhances our knowledge)," he said.
Little did he know that the serendipitous discovery of electrical installation would ignite a spark within him, which altered the course of his life.
He said the laboratory was critical in equipping him with the know-how, which eventually led to him receiving an award for technical excellence. "Gusto nako ni i-career kay na challenge ko, so sa umaabot man mag electrical engineer (Because I found the career challenging, I decided to become an electrical engineer someday)," he quipped.
Oliver looks forward to expanding his knowledge on diagnosing malfunctions, replacing parts, rewiring circuits, and CCTV and fire alarm installation.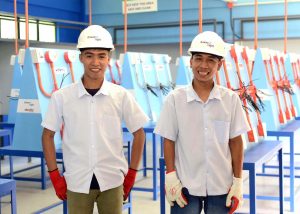 Learning Beyond Theories
Another grade 12 student Noel Lopez, 23, echoed his classmate's sentiments after experiencing first-hand the advantage of a fully equipped laboratory.
"Dili lang kutob sa theory. Mas dali nalang sa amoa kay individually nami ug masanay mag taod-taod ug kuryente kay naa namin ni nga lab kumpara sa una nga duha or isa lang maka perform kay isa ra among board (Since we now have a laboratory, it's now easier for us to get used to installing electrical wirings since we are not limited to theories. Unlike before when only one or two could perform since we only had a single board)," Noel  said.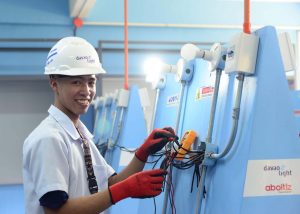 Mr. Clementino Palarca, an NC 2 teacher in Biao NHS, said the facility is vital to enhancing the training of students.
Before the donated laboratory, Mr. Palarca was forced to group the students for each performance to maximize whatever available equipment they had. Now, he enjoys the luxury of assessing their skills individually.
"Unya mas advance pud ang gihatag sa Davao light mag imbento ug wirings nga wala sailaha dati kulang ug gamit (Davao Light also gave us a more advanced laboratory, so they could execute more wiring that [was previously] impossible due to inadequate equipment)," he explained.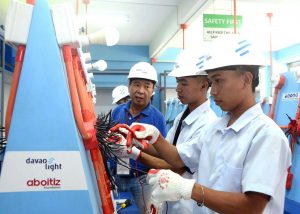 Repurposed for a Higher Purpose
The EIM laboratory sprung from a refurbished and converted classroom into a workshop and assessment facility. High school learners taking an EIM course will use the laboratory to earn their National Certification 2 from the Technical Education Skills Development Authority (TESDA).
Project E-Lab aims to provide a hands-on learning environment for the students to understand and apply radical electrical installation and maintenance concepts. It adheres to the industry standards of how to mitigate risks, prevent accidents, and maintain quality control in the electrical assets.
Noel explained, "Dako jud sya tabang ug nakahatag advantages labi na mukuha mi ug NC 2 (It's a huge help as it gives us an advantage, especially when we secure our NC 2 [from TESDA])."
Mr. Ariel Lorizo, principal of Biao National High School, expressed gratitude for being chosen as a beneficiary of the laboratory.
"Actually, our EIM dugay na ni sya pero ang partnership sa Davao Light nagsugod last school year tapos na turn over ang EIM lab atong month of May this year (Our EIM has operated for a long time but we only developed a partnership with Davao Light last school year, and the EIM lab was turned over in May this year)," he shared.
Mr. Lorizo immediately noticed the difference in having a fully equipped EIM laboratory in boosting student knowledge and skills.
Going the extra mile
In the school year 2019-2020, Biao National High School offered EIM as one of its technical and vocational livelihood specializations, with a pioneering batch of eight students. Currently, the program has 11 Grade 12 students and 18 Grade 11 students.
Mr. Lorizo said that he appreciated how Davao Light and Aboitiz Foundation went beyond simply donating equipment.
"What they have done is renovation. This classroom was empty before, so they put up cabinets, boards, paints and signages, all of these," he said.
Davao Light said the E-Lab will help aspiring students from the K to 12 program to acquire an NC2 certification should they want to pursue one.
"They will then become more qualified for employment considering their acquired skills even if they choose not to pursue college yet," it added.
Moreover, TESDA and the Department of Education require institutions to have an electrical laboratory before offering any relevant technical course, particularly EIM.
They said that such a facility will open more opportunities for high school students, and serves as a good motivator to further develop their skills and perhaps encourage them to consider a career as a lineman or an electrical engineer.
The E-Lab project aligns with Davao Light's advocacy to provide full support for its partner technical and vocational schools.
No longer bound by the shackles of waiting, Oliver and Noel eagerly dive into each task. With every flicker of the switch, every humming wire, they feel the current of their dreams surging through them.
Oliver and Noel's story was not just about wires and circuits. It's a testament to the transformative power of opportunity and the unyielding spirit that thrives against all odds. It's also a reminder that in the hearts of young dreamers like them, a fire is waiting to be kindled, a spark to illuminate the world.