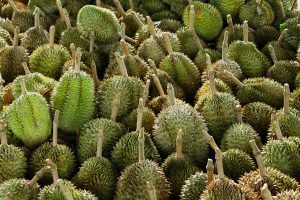 Ideally situated in Biao Eskwela, Tugbok, in the outskirts of Davao City, is the eight-hectare Partoza Durian Farm which has turned itself into a farm resort where guests and tourists are surrounded by tall coconut and other fruit trees, enjoy fresh air and the ambiance of being in a farm. Various plants are a thrill to see, including an herb garden. The Partoza farm prides itself with an interesting variety of organic food because of the presence of Annipie, the café and diner known in Davao City as the Cinnamon Destination.
Antonio "Onie" Partoza and wife Nelia invited us one Saturday afternoon to see for ourselves what the farm has to offer. Friends from the travel agencies were also there to enjoy the fresh air and the food spread on the buffet table which consisted of delicacies available on the farm such as suman or glutinous rice
served with the "Tsokolate" from the cacao beans harvested from their farm; their own version of the Mexican Tamales, Deep-fried Hito or catfish from the neighborhood in Tugbok, fresh Buko Juice, Pancit Palabok, and lots of other goodies which filled our tummies, too.
The Partoza Durian Farm consists of eight hectares purchased in 1984 and has seven hundred durian trees bearing fruits during peak season in September each year. They also resorted to intercropping of cacao, bananas, tropical fruits like Jackfruit, Coconuts and Lanzones. And since Farm Tourism has come of age and has turned into a major industry not only in the country but around the world, the farm will become a major destination with its plan to include the building of a Durian Museum, according to Pia Lourdes Paertoza Montano, who was our official guide for the farm tour.