DAVAO CITY –  Monde Nissin Corporation held the groundbreaking ceremony of their Davao plant expansion that will include a bakery and biscuits facility for brands like Butter Coconut, and Monde Mamon.
The existing manufacturing plant of Monde Nissin in Davao City has been supplying the region with Lucky Me! noodle products for over a decade. This further expansion of the Davao facility is in alignment with the company's mission to improve food security, accessibility, and sustainability in Filipino communities.
"Today, we at Monde Nissin are reaffirming our commitment to a future of inclusive growth and investment in the local economy," said Monde Nissin Chief Financial Officer Jesse Teo.
Teo was joined by other Monde Nissin Corporation executives Romeo Marañon, Biscuits and Bakery unit head, and Davao plant head Jun Matayabas, among others. Also present at the groundbreaking ceremony were Atty. Ruth B. Castelo, Undersecretary of the Department of Trade and Industry; Sec. Maria Belen Acosta, Chairperson of the Mindanao Development Authority; former Davao City Vice Mayor Bernie Al-Ag; Hon. Al Ryan Alejandre, City Councilor in the Second District of Davao City; Hon. Atty Luna Maria Dominique Acosta, City Councilor for the First District of Davao City; President John Carlo Tria and Members of the Davao City Chamber of Commerce; Barangay Captain Amado Babao and Members of the Council of Barangay Ilang.
The expanded plant is expected to contribute to the bottom line of Monde Nissin by February 2024, in time for the company's 45th anniversary. The total investment required for the plant amounts to P1.2 billion.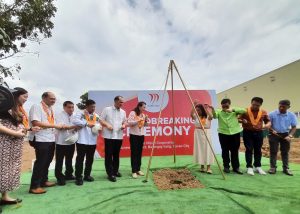 The expansion project is expected to create over 500 jobs at capacity to support the highly automated and advanced operations of the plant. The company seeks to find local sources for production materials such as eggs and flour. Aside from managing manufacturing and logistical costs, the bakery and biscuits plant is anticipated to shorten inventory cycles and improve product shelf visibility in Visayas and Mindanao.
This investment not only stimulates economic growth but also underscores Monde Nissin's commitment to making a positive impact in the lives of Filipinos.
"This expansion not only enhances our manufacturing capacity, but also strengthens our network of partner distributors and retailers. It enables us to supply beloved Monde Nissin products to customers in the region more efficiently, amplifying our impact and reach," Teo shared. This, in turn, supports economic growth, job creation, and the development of a resilient and thriving community."
Moreover, Romeo Marañon, Head of Monde Nissin's bakery and biscuits unit, said the fortified supply chain will aid in building community resilience as Mindanao becomes more prone to natural disasters.
"Monde Nissin has been a very active contributor to disaster relief in the region through the noodle brand. With the bakery and biscuits expansion, we'll be able to provide more food products and act as a quick response partner in providing food to communities in need," he said. With the expansion of the Davao plant, Monde Nissin envisions expanding its regional and national distribution network, leveraging its market leadership in the food and beverage industry. Nationwide, Monde Nissin's sales of the Asia-Pacific Branded Food and Beverage increased by 15.4% year-on-year in Q1 2023 driven by growth in all categories.
The company's distribution channels encompass wholesale distributors, smaller retailers and sari-sari stores, sub-distributors, supermarkets, convenience stores, and groceries, enabling broader access to their diverse product portfolio. PR