Globe and the Aboitiz Group have vowed to pursue transformative change in the country through more connected and digitally empowered Filipinos after sealing a multi-billion peso tower sale and leaseback agreement last May 7, 2023.
Globe signed a deal to sell 447 towers for PHP5.4 billion to Unity Digital Infrastructure Inc., a joint venture between Aboitiz InfraCapital Inc. and Partners Group.  On top of this, Unity is committed to build over 200 towers for Globe in areas across Visayas and Mindanao.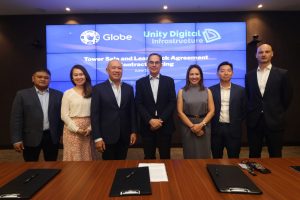 "I think this whole initiative of building these towers as a shared proposition truly helps the nation and also helps deploy the digital infrastructure in a much more efficient manner," said Globe Group President and CEO Ernest Cu at the recent ceremonial signing of the tower agreement with Unity Digital Infrastructure Inc.
The transaction allows Globe to efficiently raise capital, redeploy capital from passive infrastructure to active equipment, improve balance sheet health, and leverage the expertise of tower companies, all of which help in improving its ability to more efficiently serve its customers. Globe expects a pre-tax net transaction gain of PHP1.8 billion from the deal.
Proceeds of the sale will support Globe's future capital expenditures, and debt avoidance with the goal of improving its balance sheet and ensuring the sustainability of its network and service quality.
The Aboitiz Group, led by its CEO Sabin Aboitiz, thanked Globe for entrusting their towers to the company.
"This is a testament to our shared dedication to a more connected and digitally empowered Philippines. It's more than a business deal, I think. It's a solid commitment to cooperation, digital progress, and strengthening the future of our nation," he said.
Aboitiz, also the lead convenor of the Private Sector Advisory Council, expressed optimism that the move could encourage and convince other industries to cooperate and bring about transformative change in the country.
"This agreement symbolizes the beginning of an enduring collaboration that we believe will set a precedent for how industries can actually cooperate to bring about transformative change, and I don't only say that about what we're doing today but about how the country is moving forward," he added.
Globe has so far secured PHP47.9 billion from the PHP96.3 billion Tower Sale and Leaseback deal covering 7,506 towers. Subsequent closings will happen as and when closing conditions are met. Its four Sale and Leaseback partners are Unity, MIESCOR Infrastructure Development Corp. (MIDC), Frontier Tower Associates Philippines, and PhilTower Consortium Inc.
With fewer towers in hand, Globe seeks to raise its operational efficiency without compromising the reliability of its telco services. After reaching peak levels of spending for its capital expenditures over the last two years to establish a significant network backbone, Globe is shifting towards capital efficiency and optimization.