In a remarkable display of solidarity and compassion, Tactical Operations Group 11, TOWEASTMIN, led by Group Commander, TOG 11, COL OMAR FRIDZKHAN S ALPA PAF (GSC), joined forces with various organizations and stakeholders to conduct a heartwarming outreach activity in the picturesque village of Sitio Sualon, Brgy Tamugan, Marilog District, Davao City. This noble initiative was part of the Pre-Anniversary Activities of TOG 11, aimed at uplifting the lives of the Indigenous Peoples (IP) communities residing in the region.
Sitio Sualon, a vibrant tapestry of cultures and home to the Ovu-Manobo, Bagobo, and Matigsalug tribes with the headship of their promising Tribal Chieftain Datu Simeon Aguio, welcomed the unselfish endeavor with open arms. These indigenous groups, custodians of unique traditions, heritage, and wisdom passed down through generations, face numerous challenges, vulnerable to the deceptions and lies of the Communist Terrorist Group (CTG). TOG 11, in collaboration with its dedicated partners, aimed to make a lasting positive impact on the community's well-being by bringing the Government and Stakeholders services closer to the Indigenous People.
The outreach activity witnessed an overabundance of contributions and efforts from various organizations and individuals. ACDI Davao Branch, JCI Kadayawan, Davao Bay Eagles Club, Kiwanis International, Agwanta, Mapúa Malayan Colleges of Mindanao, and 27th Infantry "Action" Battalion lent their support wholeheartedly, exemplifying the power of collective action.
During the event, TOG 11 proudly handed over an array of essential items to the community. The contributions included 102 pairs of rain boots, ensuring that the children would be protected during the rainy season, 200 slippers for comfortable daily use, 120 backpacks to facilitate their educational journeys, and 350 kilograms of rice, a staple food source. Moreover, 10 boxes of assorted canned goods, 6 boxes of assorted biscuits, and 12 boxes of juice packs provided vital sustenance for the community.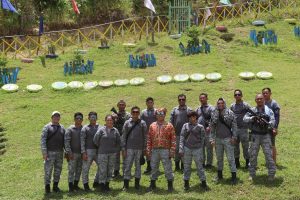 Recognizing the significance of education, TOG 11 also distributed 102 sets of school supplies and toys, enabling the children to pursue their learning activities with enthusiasm and inspiration. Additionally, San Miguel Corporation, a renowned advocate of corporate social responsibility, generously contributed 2 boxes of Jollibee yum burgers and 20 boxes of frozen corned dogs, ensuring smiles and moments of delight among the young attendees.
The outreach activity was not only about material contributions but also a profound celebration of cultural exchange and mutual respect. In a remarkable moment, Datu Simeon Aguio, a respected Tribal Leader, presented a special token to TOG 11's Group Commander, COL ALPA PAF (GSC), expressing gratitude for their invaluable and undying efforts. In an extraordinary display of cultural significance, COL ALPA PAF (GSC) was honored with the sacred tribal dress, adopted and bestowed the title of "Datu Solirok" which means an instrument of goodness with positive actions and a blessings flow to others. This ceremony served as a testament to the enduring support provided by TOG 11 and its unwavering commitment to the betterment of Sitio Sualon and its people.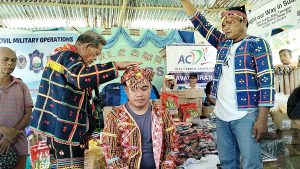 This outreach activity stands as a testament to the profound impact that can be achieved through unity and cooperation. By bridging gaps, nurturing understanding, and creating inclusive spaces, TOG 11 has set a remarkable example for the community. The effort demonstrated by all involved stakeholders showcases a sincere commitment to uplifting the lives of the Indigenous Peoples and building a more equitable society.