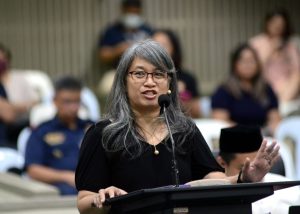 by Lourhenz Igloria and Rojean Grace Patumbon/UM Interns
THE NEWLY minted head of the regional Department of Migrant Workers introduced herself and their services, briefing lawmakers about Republic Act No. 11641, which created the office.
The department was created through RA 11641, signed by then-President Rodrigo Roa Duterte on December 30, 2021. Its main goal is to give protection to Filipino migrant workers even before they set foot outside of the country. It is also responsible for promoting OFW empowerment and protection through ongoing training and knowledge development.
"Ang DMW mura siyag umbrella [sa OWWA] because even before mugawas dapat naa nay protection ihatag ang government sa iyaha. (The DMW is like the umbrella of OWWA because even before they leave the country, they should be protected by the government)," said Atty. Angela Librado-Trinidad.
What distinguishes DNW from OWWA is that the office addresses other aspects like the rights of every OFW. In contrast, OWWA focuses on the welfare programs that respond to the needs of member OFWs and their families.
The department took effect on February 3, 2022, and became active this 2023. It took under its wing seven agencies: the Philippine Overseas Employment Administration (POEA); the Office of the Undersecretary for Migrant Workers' Affair (OUMWA) of the DFA; the International Labour Affairs Bureau (ILAB), and all Philippine Overseas Labor Offices (POLO) under DOLE; the National Maritime Polytechnic (NMP); the National Reintegration Center for OFWs (NRC) under OWWA, and the Office of the Social Welfare Welfare Attaché (OSWA) under the DSWD.
"[At the regional] level, we hope to meet and greet all our stakeholders and duty bearers. We will be consulting them on how we could operationalize the mandate and function of the department at the regional level," said the former city councilor.
DMW will hold an event at SM Ecoland on June 7, 2023, from 1 p.m. to 5 p.m. to inform the public about its services. This will also be the first time that Migrant Workers Day will be celebrated under a new department. 
The event will highlight the services offered by the department, like how it will help jobseekers secure work abroad without endangering their welfare. The department will celebrate this event by recognizing OFWs who excelled despite their circumstances. As a result of this initiative, the general public will be aware of what the newly established department can offer.