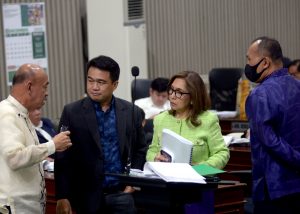 By Lea Regina Dulay and Joana Mae Villanueva/UM Interns
LAWMAKERS approved the road closure of Matina Biao-Langub from May 2023 to December 2024 to make way for an overpass bridge construction during their 21st council session on June 6.
As part of the Davao City Bypass Road Project funded by the Japan International Cooperation Agency (JICA), the ordinance was okayed to kickstart several construction projects, including the Matina 1 and Matina 2 River Bridges. 
Engr. Earl Nicholas Rada, the project coordinator of the Davao City Bypass Road Project, said the project would be essential to create an approach road from the south side of the tunnel. 
He also reiterated that it would not cause any drivers any hassle. They will issue residents with special passes to let them in. 
Alternatively, there is an access road constructed before the project that can go directly from Matina Biao Elementary School to Kopi Point in Barangay Langub, reducing by five minutes the typical 20-30 minute travel time on the current road. 
On the subject of the road right of way, Engr. Rada said they already resolved the payments with some landowners. They are strategically acquiring more land so the contractor has areas to work on. The only problem he could see was the lack of documents on the part of the landowners.
On the other hand, the Department of Public Works and Highways has been assisting landowners in complying with the requirements to receive compensation.
The contractor is currently cooperating with the City Transport and Traffic Management Office (CTTMO) and the affected barangays. They also put up signs on some parts and will begin with the full-scale installation once the project begins. 
The Matina Biao-Langub Road will close 30 days after the public has been adequately notified.