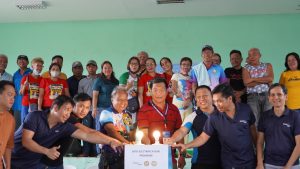 Aboitiz Power Corporation (AboitizPower) subsidiary Davao Light and Power Co., Inc. (Davao Light), together with the Local Government Unit (LGU) of Carmen and the Department of Energy – Region XI, energized over sixty households in the four sitios of Barangay Magsaysay, Carmen, Davao del Norte as part of the Sitio Electrification Program (SEP).
"We thank Davao Light and the Department of Energy because there won't be much progress [in Carmen] without electricity," Jerry Nalupa of the LGU of Carmen said. "Every business — whether industrial or small — and each home needs electricity."
"Before, students would need to go to the library or to an internet shop in the energized parts of the municipality when they needed to research their assignments," Head of Barangay Peace and Order Benedicto Nalzaro added. "Now, they can use their cellphones and connect to the internet at home."
According to the Energy department, about 1.1 million households remain without electricity as of end-2021. The National Electrification Administration targets to achieve full electrification by 2028. Davao Light has helped energized sitios since 2018, and has also conducted public safety campaigns like electrical safety and conservation tips, including the dos and don'ts to avoid fire incidents.
"We are really happy that we now have electricity. We feel more at ease in our homes because it's well-lighted," Nalzaro shared. "The residents of Barangay Magsaysay — both young and old — are very happy to have electricity here."
"Most of the residents in Barangay Magsaysay work in big companies, banana plantations, and farms. There is really a big difference now that the streets are well-lighted. Residents feel more at ease when going to and from work," he added.
This SEP covers the areas of Puroks 4A, 4B, and 4B – Area 2.
Davao Light, along with its partners, continue to empower the communities it serves through the SEP and other electrification projects.
"Thanks to the support of the LGU of Carmen, we were able to fast-track the Sitio Electrification Project to three months," said Engr. Jerome Ryan Deleonio, Head of the Distribution Services Department of Davao Light. "That's how fast electrification is now."