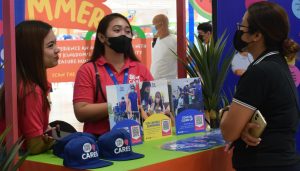 Go! Volunteer rides on the coattails of its stellar Manila leg as it heads to continue the expo in Davao, marking the first of its kind outside the capital.
Davaoeño volunteers and nonprofits are set to meet this Saturday and Sunday at the Annex Event Center, SM City Davao, where it is expected to host the most diverse slate of partner organizations.
The two-day expo aims to provide volunteer opportunities, especially for the youth down south.
Go! Volunteer's Manila leg last May 6 and 7 at SM Megamall was joined by over 13,000 volunteers. The expo is led by iVolunteer Philippines, in partnership with SM Cares, SM Supermalls, and Cravewell.
"We're very happy that thousands of Filipinos answered the challenge to #DiscoverNew and #GoVolunteer," said iVolunteer Executive Director JB Tan. "For us, this was a clear signal that volunteers are ready to go back out there and contribute their time, talent, or treasure for benefit of others."
The Go! Volunteer expo in Manila, which was on its third run, featured booths of different volunteer NGOs from a wide range of advocacies like hunger & poverty alleviation, community development, children & youth, education, and environment & disaster response. Attendees get to taste the fun side of volunteerism as they complete their digital passports by finishing tasks such as biking for a cause, carrying pregnancy weights, decoding words via braille, and playing an electric connectivity game.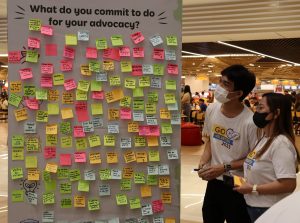 "It's so exciting to be back out here to volunteer–and just in time after the [World Health Organization] declared that the pandemic is no longer a global emergency," said Kris Lenaming, an expo volunteer. "You can feel that the energy shared by all volunteers is multiplied when we get to interact face-to- face."
The event also had inspiring keynotes from iVolunteer Champion 2021 Nor-Ain Mohammad and Mark Napao of the sustainable energy nonprofit Solar Hope during the first day. iVolunteer also launched its flagship volunteer organization incubator program, Social Innovation Challenge, where the group calls aspiring nonprofits to hone their skills in organization management and volunteer engagement.
"SM Cares is dedicated to supporting communities by empowering the next generation of leaders and actively involving them as champions of our various advocacies," said Royston A. Cabunag, Assistant Vice President for SM Supermalls and SM Cares Program Director for Children & Youth.
"As the 'Mall for All," we are thrilled to be an avenue for iVolunteer to welcome and gather organizations and volunteers, creating more meaningful opportunities for the youth to create a brighter, more sustainable future for all," Cabunag said. PR