By Princess Lacorte
The new officers of the Chamber of Real Estate and Builders Associations Incorporated's Davao del Norte and Davao de Oro chapter affirm their commitment to uphold  the current administration's direction towards affordable housing.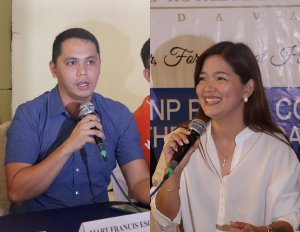 On Wednesday, May 10, CREBA DavNor/de Oro President Mart Francis Escano and Executive Vice President Joan Magtibay said they will continue the organization's program to give affordable housing with various finance options, including reaching out to locals to know their problems in housing and to work with the government sector to provide solutions.
"We are going to be the bridge between the government's direction and advocacy" which Escaño said is CREBA's role.
Magtibay affirmed the strong collaboration with the government in providing every Filipino a home, referring to President Bongbong Marcos' Pambansang Pabahay para sa Pilipino Program.
It also desires to partner with the Department of Human Settlements and Urban Development to carry out the activities included in their advocacy.
With the support and expertise of real estate practitioners, private sector employees, businessmen, developers, property appraisers, and more under CREBA, the organization expressed confidence that the DavNor/de Oro chapter will acquire the same level of strength as other CREBA chapters in the next two or three years.
"CREBA is an inclusive organization as long as we are one with our vision and advocacy and in line with the vision of CREBA which is providing a home for every Filipino" Magtibay said.
CREBA is inviting interested applicants for membership and is preparing activities in line with the organization's objective to tap government and private sectors.