By Mary Angeline Micoy and Myque Rollon/UM Interns
JAPANESE business companies are interested in pursuing possible ventures in Davao City, a lawmaker revealed during the 18th regular session on May 9.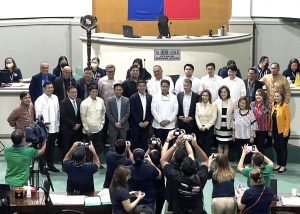 Councilor Myrna Ortiz of the 3rd District revealed that the recent business trip of several key local officials to the Japan Investment and Tourism Roadshow and the formal signing ceremony for the sister city agreement between Davao City and Sennan City led to various opportunities.
Ochi Keito, the CEO of High Bridge Institute, talked about several opportunities after visiting San Pedro Hospital with other Japanese delegation members on Monday.
"So, we came up with [a] few ideas here. One of which is the Pathway from Davao to the World: Japanese Students Medical Education Global Opportunities. Also, bringing direct flights between Davao City and Tokyo… and lastly, we want to present [to] you the medical truck," Ochi said.
Ochi sees Davao City as an excellent destination for Japanese high school and college students to get trained, educated, and obtain a degree.
"So, we were thinking that maybe we can bring Japanese students to come here to be educated and become a certified nurse, and they could work in other countries like [the] UK, US, UAE, and Singapore. That would be such [great] news for Japanese people," he added.
He also discussed the possibility of directly connecting Davao City to Japan through Peace Aviation, a Japanese low-cost airline.
Finally, joining the delegation was Shimaoka Jun, the CEO of Image One Co., a Japanese medical company specializing in medical trucks for military, emergency, and rescue operations in remote areas.
"You got the entire hospital inside a truck. It's huge, and it's got MRI, CT scan, pretty much everything. It's literally a moving hospital. We like to provide the services to your country, mainly here in Davao," Ochi said. 
Ortiz said the visit was a positive development for Davao City in terms of business investment and tourism. "Of course, if dako tag income, dako pud ang revenue. So, atoang revenue magamit nato na sa pagtubag sa mga panghinahanglanon nato diri sa atoang syudad sa Dabaw (With more income, we would have more revenues. And we can use the revenue to address the needs of our city)," she said.