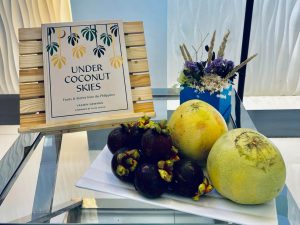 Whenever I travel abroad, one of the restaurants I'd look for is a Filipino restaurant.  I have often wondered why Filipino food, despite the years and despite the multitude of Filipinos living abroad, has not attained the global popularity of Asian cuisines like that of Thailand or Vietnam.  "Why is this? Why is a culture so rich with history and pride only now finding its time in the spotlight?  It's no secret that Filipinos are very proud of their culture, but when it came to sharing recipes and delicious dishes, we tended to keep those things to ourselves," opines the Filipino-American chef Alvin Cailan of Los Angeles, USA.  Chef Alvin is reputed to be the most high profile chef in America's Filipino food movement.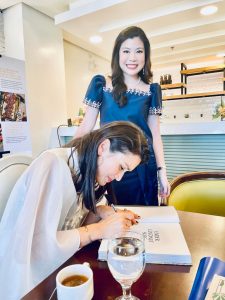 Happily, there is also one proud Filipino-Australian named Yasmin Newman who is a food and travel writer, photographer and cookbook author who has been tireless in exploring different regional cuisines and cultures of the Philippines.  The amiable and humble Yasmin has worked for leading Australian media and has been featured in National Geographic, Oprah and Vogue.  She has written three beloved cookbooks— 7000 Islands: A Food Portrait of the Philippines (2013; 2019), The Desserts of New York:  And How to Eat Them All (2016), and Under Coconut Skies—Feasts & Stories from the Philippines (2021).
     Last April 20, 2023, chef Yasmin Newman made her charming presence felt at Hon. Consul Joji Ilagan-Bian's Institute of International Culinary and Hospitality Entrepreneurship (I-CHEF).  On hand to warmly welcome chef Yasmin was JIB's Chief Operating Officer Nicole Bian-Ledesma.  Smart Nicole is presently the President of the Davao Tourism Association (DATA).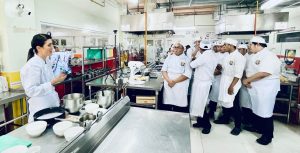 The I-CHEF event with chef Yasmin Newman was billed "A Taste of Australia and the Philippines with chef Yasmin Newman through Coffee Conversations and a Masterclass."  The special occasion was made possible by the Australian Embassy as part of its "Taste of Australia Campaign—a celebration of good food made with fantastic Australian produce" and the "Taste of the Philippines Campaign" by the friends from the Australia-Philippines Business Council.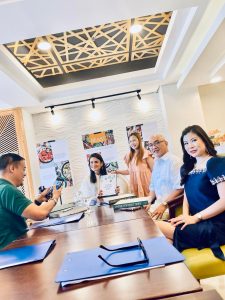 "I want to help share with my fellow Australians these flavors I grew up with in the Philippines.  Food brings people together and helps understand cultures.  For me, food is the doorway to understanding my heritage," said Yasmin as she continued,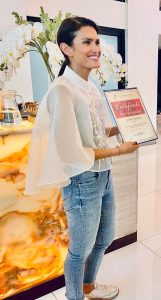 "We found our own piece of Paradise in Siargao….teeming with produce from the surrounding land and sea captivated me…I savored the other side of the Philippines where dishes were light, fresh and vegetable-laden, and artisan ways were preserved.  This is our native food, uncommonly fresh, simply cooked and requiring little endorsement."
      Yasmin's "Under Coconut Skies" cookbook is a compilation of dishes and stories inspired by that vivid time she spent in Mindoro, Siargao and travels to other distant regions, where bright, bold flavors abound and the vibrant bounty from the sea, earth and trees. "Under Coconut Skies is a celebration of how Filipinos love to eat, with a kaleidoscope of flavors in each dish and an array of plates in each meal," Yasmin told her guests.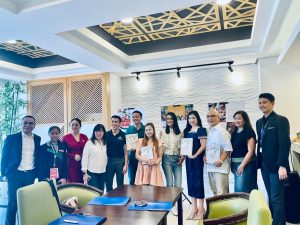 Indeed, it's admirable for a chef to travel the distance and document Philippine recipes plus the history and/or personal story behind each dish.  Congratulations, chef Yasmin Newman for carrying the torch of an encouraging Filipino culinary movement and the preservation of traditional dishes through your precious cookbooks.  It's about time Filipino cuisine shines in the international culinary arena.  
    Thank you, chef Yasmin, for the "Under Coconut Skies" cookbook and the enlightenment on Filipino cuisine.  Thank you, Hon. Consul Joji Ilagan-Bian and Nicole Bian-Ledesma of I-CHEF for inviting me.