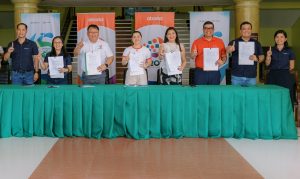 Hedcor and the provincial local government of Davao del Sur resolve the allocation of the Real Property Tax (RPT) rates and sign a Memorandum of Agreement (MOA).
Hedcor's Sibulan A and B, and Tudaya 1 and 2 hydro facilities in the Municipality of Santa Cruz, Davao del Sur – with a collective capacity of 56.1 megawatts (MW) – now enjoys the special real property tax rate in reference to the Renewable Energy Law.
"As a renewable energy developer, the ease-of-doing-business extended by the province to us, particularly on the special real property tax rate, furthers our vision of becoming the largest renewable asset manager both in the Philippines and in the ASEAN region," Hedcor President and COO Rolando G. Pacquiao said.
"Hedcor's commitment to the well-being of our community is commendable, and their dedication to ensuring a resolution that benefits all parties involved is truly remarkable," Davao del Sur Governor Yvonne R. Cagas added.
"The successful resolution of this dispute would not have been possible without the cooperation and collaboration of all parties involved and I would like to extend my gratitude to everyone who contributed towards this positive outcome."
Hedcor and the local government will continue to collaborate on corporate social responsibility (CSR) projects to support the provincial government's efforts to promote sustainable development and improve the lives of the people in the area.
"We, in Hedcor, are positive that our shared goals and aspirations can further advance our Province. Hedcor is here to work with you in building a better and more sustainable future for us all," Pacquiao said.
Hedcor is a renewable energy subsidiary of AboitizPower.