In time for Earth Day, a female hawksbill sea turtle was turned over to the Aboitiz Cleanergy Park at Sitio Punta Dumalag, Matina Aplaya, Davao City. Found in a fish trap, the floating and weak pawikan was rescued by fisherfolks led by Kagawad Ronel P. Simo in the sea near Purok Libra, Sitio Tambangan, Lasang, Davao City.
This year's Earth Day theme, "Investing in our future," highlights the importance of dedicating our time, resources, and energy to solving climate change and other environmental issues for the sake of future generations.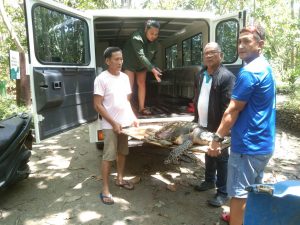 Davao Light and Power Co., Inc. (Davao Light) and its social development arm Aboitiz Foundation Inc. continue to support the conservation efforts for sea turtles at the Aboitiz Cleanergy Park, a pawikan rescue center facility.
According to the World Wildlife Fund (WWF), sea turtles help maintain the health of seagrass beds and coral reefs. In particular, the critically endangered hawksbill sea turtles live on coral reefs. They eat the overgrown sponges that suffocate slow-growing corals, resulting in a healthy reef. They also help prevent the overpopulation of jellyfishes in the ocean.
Currently, there are seven (7) rescued pawikans under the care of Aboitiz Cleanergy Park. Out of the seven sea turtle species in the world, three species of pawikan namely an olive ridley, a green sea turtle, and the critically endangered hawksbill sea turtles are at the park. In coordination with the Department of Environment and Natural Resources XI, they are provided with veterinary care and are being observed at the facility until they are fully recovered and can be released back into the wild.
The park is also a known nesting ground for the hawksbill sea turtles and has released over 7,000 hatchlings since 2015.
This effort, along with coastal clean-up and tree planting activities conducted at the park are testament to the Aboitiz Group's commitment to the United Nations Sustainable Development Goal [14], which aims to conserve life below water.