Manila – Four weeks into the summer, AirAsia Philippines names island destinations Boracay, Bohol, Puerto Princesa, Cebu, and Tacloban as the most visited spots for Filipinos and foreign guests for travels made from 20 March to 16 April.
The World's Best Low-Cost Airline is looking to fly more travel-hungry Filipinos and other guests to island destinations and sustain the occasion with bang fo the buck deals towards the month of May, the end of summer.
AirAsia Philippines Communications and Public Affairs Country Head Steve Dailisan said, "Summer is a highly valued season in the Philippines, and it is during this time that we witness a rise in the number of tourists, especially to the famous tropical paradises with white-sand beaches. In the first few weeks, this trend becomes more evident. AirAsia Philippines is committed to flying both locals and foreigners to these alluring destinations at the most affordable rates while maintaining our improved on-time performance."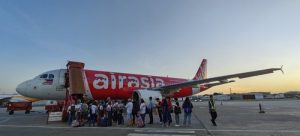 On the other hand, AirAsia Philippines is informing its guests about the new terminal arrangements, effective 1 July 2023, all domestic flights will be departing and arriving at the NAIA Terminal 2 (Centennial Terminal) instead of the NAIA Terminal 4 (Old Domestic Terminal). Meanwhile, international flights will remain to operate at the NAIA Terminal 3. This step is aimed at reducing the congestion at T4 and offering more space to domestic AirAsia guests.
To give guests the best deal for their money, the World's Best Low-Cost Airline is offering a PHP 88 one-way base fare from Manila, Cebu, and Clark, to other domestic destinations with Fly Local, Fly AirAsia which is available for booking from 17 to 23 April for flights from 17 April to 31 October 2023.
With the increasing passenger traffic within the airport vicinity, guests are encouraged to be at the airport at least 3 hours prior to their departure and are likewise advised to check-in via airasia Super App or through the self check-in kiosks at the airport to facilitate hassle-free travels.
Guests are also invited to regularly visit the airasia fly safe page, airasia newsroom, and airasia Super App social media platforms Facebook and Twitter to get updated with flight schedules and other travel advisories.