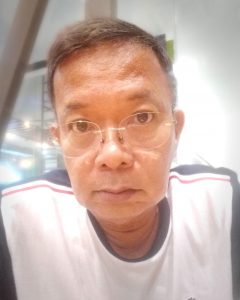 The title may sound like cutesy pun play on words for 'I know a guy' but the sad truth is, we are all guilty of the name-dropping practice even without our not being fully aware of it. While some people may view it as just a natural and harmless go-to device for establishing common links with others and gaining a foothold during conversations, therein lies the problem. Getting even the slightest of advantages over others seems to be the most essential  part of, whatever one calls it, the rat race or the caterpillar pillar. It is even more rightly so if, as one of the  'ease of access' strategies in life, the edge over other people is attained whenever you "know" somebody. Noah.
We were in a minor vehicular accident last night on the way home after an errand downtown. Under a light evening rain, a car drove past the double yellow in an attempt to overtake us as the light turned green and scratched our driver's side of the car deeply. Naturally, the procedure required us that we both stop and assess the damage thereby blocking traffic while we waited for the traffic policeman whom we immediately called for assistance. 
In a span of just a few minutes, the other driver of the car that bumped us had a group of family members plus friends who right away showed up as "rescue" (which in the vernacular actually means to offer support services). They were even earlier than the police! All the way down to the station, it just seemed that we were just bombarded with one too many unofficial beseeching from fam members, trying to convince us to just resolve the case without the "blotter', official traffic report and possible reporting to LTO (land transportation office). While  these actions on their part may just be natural for any party, what's irritating in these talks was interjections by some who resorted to introducing themselves as members of the force and with uncles and relatives in uniform as well. So what?
Meanwhile, on many instances during bank transactions, especially in government institutions that are almost always filled with clients, there will always be one guy who will skip the queue, seeking out the employee or employees known to them. Ease of Access. 
Practically in almost all situations which require one to wait until their turn comes, I Noah guy is always the best tactic. For us, it has regrettably become inculcated deep into culture.  To rephrase a meme, it's almost like the hazard button in your car which is now notoriously used as though it were a license to just park your vehicle anywhere and get away with it.