Davao del Norte – In line with the 8th ArmyArtilleryRegimentNationwideBloodlettingActivity
dubbed as "Makabagong Bayani Alay ay Dugo Para sa Kapwa Pilipino", combined personnel
from 11RCDG, 1102CDC, 1103CDC, reservist personnel, and ROTC Cadets participate in the
bloodletting activity at the Robinson's Place, Tagum City, Davao del Norte on March 09, 2023.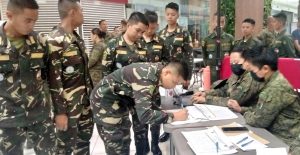 The said activity was spearheaded by the 2nd Field Artillery Bn (2FAB) of the Army Artillery
Regiment in partnership with Davao Regional Medical Center (DRMC) which aims to support the
shortage of safe blood in hospitals and blood banks all over the country.
A total of thirty two (32) personnel from 11RCDG, reservist personnel, and ROTC Cadets with
estimated 16,000 cc of assorted types of blood were donated during the activity.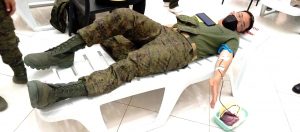 Meanwhile, COL JOSUE M CABERTO MI (GSC) PA, Group Commander, 11RCDG, RESCOM,
PA commended his troops and reservist personnel for actively participating the said event in
close collaboration with the 2nd FAB and DRMC. This is one way of sharing our part in saving
lives and supporting the initiatives of the Army Artillery Regiment and the Davao Regional
Medical Center, Caberto said. (S7, 11RCDG)