MAWAB, Davao De Oro – The Camp General Manuel T Yan Senior Station Hospital (CGMTYSSH) transferred and admitted 11 patients from the Davao De Oro Provincial Hospital – Montevista after a 6.2 magnitude earthquake hit said province on Tuesday afternoon, March 7, 2023.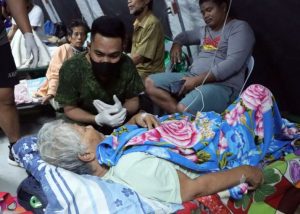 The patients were forced to evacuate the Davao De Oro Provincial Hospital building at Kilometer 104, Barangay Bankerohan, Montevista, and temporarily stayed outside after some cracks and damages were seen and observed inside the hospital.
Likewise, three (3) military ambulances transported three (3) adults, eight (
pediatric patients, and their selected significant others to CGMTYSSH in Barangay Tuboran, Mawab, Davao De Oro.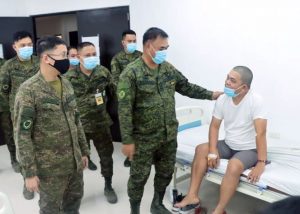 10th Infantry (Agila) Division Commander MGen Jose Eriel M Niembra personally checked the status of said patients on March 8. He assured the patients that proper medical attention would be given to them while staying inside the military hospital.
Also present during the transfer of patients were 1001st Infantry Brigade Commander Colonel Felix Ronnie B Babac and Davao De Oro 2nd District Congressman Ruwel Peter Gonzaga. PR