APO Golf Club tallied 289 in the final day to finish third place in the Friendship Division of the Club Filipino de Cebu today (March 4) in Cebu.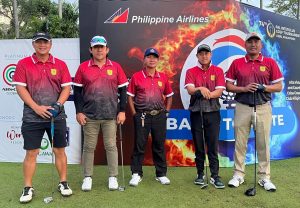 Paul Lysander Garcia shot a 23 while Mark Oropesa added a 22, Cocoy Junsay 17 and Andy Ugdoracion 11 for Apo at 73. Mayolito Pillerin's nine did not count.
The other members of Apo are Carlo Angelo Senase, Verne dela Cruz, Regino Capa, Hilario Baluso and Stephen Alegre. Alta Vista Golf Team 2 won the Friendship Division with 326 followed by Liloan Golf Club with 299.
Davao City Golf Club Team B is 6th place. DCGC Team A finished 5th while South Pacific Davao pegged at 7th place in the Sportswriters Division.
Apo Golf and Country Club was 11th place in the Founders Division. Rancho Palos Verde team 1, on the other hand, finished 6th place in the Aviator Division.
Meanwhile, Manila Southwoods captured the Championship Division with a four-day score of 543 at Cebu Country Club. Second was Eastridge Golf Club (521) followed by Cebu Country Club (498).
The other winners: AVIATOR – 1. Alta Vista 2. Cebu Country team 2 3. Zamboanga
FOUNDERS – 1. Orchard 2. Riviera 3. Forest Hills SPORTSWRITERS – 1. Club Filipino Inc. de Cebu 2. South Cotabato Golf 3. San Juanico
INTERNATIONAL – 1. Team Brookside, 2. South California Redhawks 3.
By Lito delos Reyes