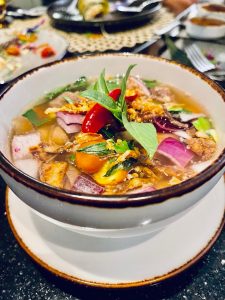 "A new and evolving signature restaurant – this is what guests should look forward to when dining at Benjarong Davao. With its newest Chef, Woon Krissana, Dusit's authentic Thai restaurant elevates its menu offers. The sought-after bar time of Benjarong Bar is set to have a comeback this March as well," revealed Dusit Davao's MarComm Manager Faith Dimaano.  Naturally, I readily accepted her invitation to meet Dusit Davao's Benjarong new chef named Woon Krissana.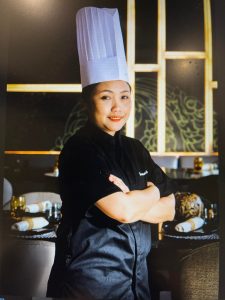 It was last February 24 when the Dusit Davao Team headed by Faith introduced the Thai culinary delights which were personally prepared by Chef Woon to media writers and influencers at Benjarong. Benjarong's newest Chef hails from the northeastern part of Thailand.  She also told this writer that is well experienced with different cuisines having worked in the USA plus her international travels to different countries in the globe. 
That relaxing evening, Chef Woon shared some insights on the new Benjarong menu. "The Thai dishes offered in Benjarong are a reflection of the inspirations I have had throughout my career. 
These Thai dishes are highly influenced by the I-saan traditional culinary style executed with modern culinary techniques. It has a unique characteristic that most of the dishes consist of herbs and spices as well as other fresh ingredients."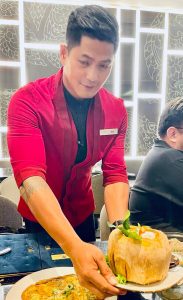 When asked about her vision for the Benjarong, Woon immediately commented, "I'd like for Thai cuisine to gain popularity; and I hope Davao would embrace these rich and varying Thai flavors."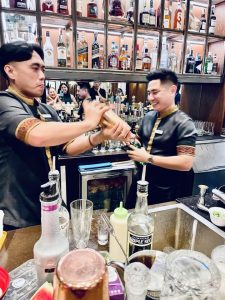 Some of the new Benjarong specialties include Som Tham Thod (Crispy papaya salad) which is truly delicious, delightful Yaam Pla-Dook Fu (Catfish salad), Khai-Jiew (Thai omelette), so savory Hor-Mok Talay Ma-Prow Oon (Mixed seafood curry), tasty Plah-Pla Thod (Crispy fried fish with fresh herbs and roasted chili paste sauce), and for dessert, the Ta-ko (a Lubi signature pandan and coconut pudding with corn kernel) which is similar to our maja blanca.
Apart from being a gastronomic destination for Thai cuisine, Benjarong is a go-to place for a night out with friends and colleagues. Media friends were so lucky to have a taste of the offerings of Benjarong Bar's Bar Time.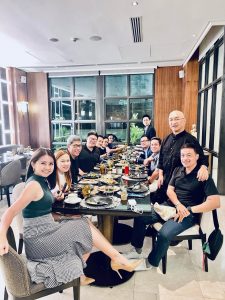 The new cocktail line-up includes the Hurricane Twist, Margarita, Pink Flirtini, Vodka Stinger, and Rum Citrus Cooler. These cocktails are best paired with the Bar Chow, exclusively offered at the Benjarong Bar.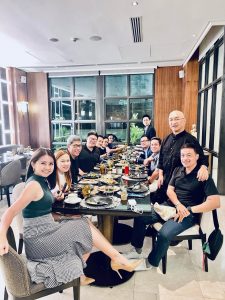 Dusit Davao and Dusit Thani Residence Davao's new Executive Sous Chef Dinan Recaborda was also introduced during the intimate dinner with the media. To book a table or inquire for reservations, guests may e-mail d2dv.fbreservations@dusit.com or call (082) 27 7500 and 0917 803 2862 (Benjarong). 
Khob Khun Ka, Benjarong.