Mayor, officials urge everyone to participate as Araw ng Dabaw festivities formally start
MAYOR Sebastian Duterte urged everyone to join and enjoy the month-long Araw ng Dabaw celebration as it officially opened with a Misa Pasasalamat at the San Pedro Cathedral on Wednesday.
"This year, we welcome back the activities we all loved to enjoy," Duterte said in his speech during the Pasiugdang Pagsaulog at Rizal Park.
The mayor also reminded everyone to also remember the culture of security being implemented in the city although they are welcome to participate in the fanfare.
Vice Mayor J Melchor Quitain Jr., consulate generals, deputy mayors of the 11 ethnolinguistic tribes, national government officials, city government department heads, city councilors, candidates for the Mutya ng Dabaw and Reyna Dabawenya, and other officials from the public and private sector also attended the Pagsaulog.
Quitain, on the other hand, invited Davaoeños and visitors to experience the best the city has to offer.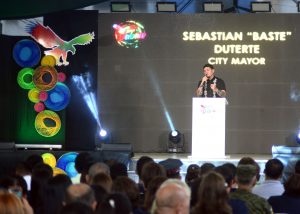 The Araw ng Dabaw Artisan Food and Cacao Market also opened at Rizal Park. It will run from March 2 to 5, from 5 p.m. to 12 midnight.
On March 3, the Hugyaw Dabaw – All-Star Variety Show will be held at the San Pedro Square from 5 to 8 p.m., while the Music and Art Street Festival with 3D Drone Show at the Davao Coastal Road will be held on March 4 from 5 p.m. to 1 a.m.On March 8, the Pasidungug: Garbo sa Davao will be held at the Acacia Hotel from 1 to 5 p.m.
This will be followed by the conferment of Datu Bago Awards at the Royal Mandaya Hotel on March 10 at 11 a.m., and a Cheerdance Competition at the Davao City Recreation Center on March 11.
The first-ever Drag Lipsync Competition for the Araw ng Dabaw is slated March 10 at Rizal Park. On March 18, the Clash of Mighty Bands music competition will be held at San Pedro Square.
Meanwhile, the Sayaw Pinoy Folkdance Competition will be held at SM City Davao from 10 a.m. to 7 p.m.
The coronation night of Reyna Dabawenya will be on March 15 at the RMC Petro Gazz. The Mutya ng Dabaw coronation night will be held at the USEP Gymnasium on March 17. Meanwhile, the final event of the Araw ng Dabaw, the Parada Dabawenyo, will be on March 18.