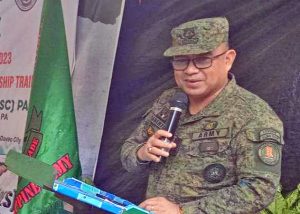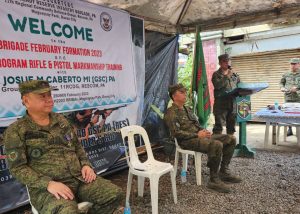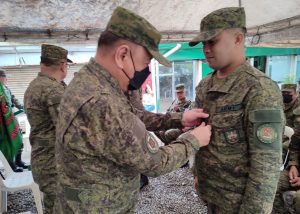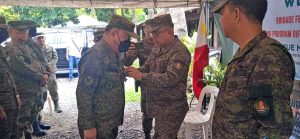 THE 2202ND Ready Reserve Infantry Brigade, Philippine Army, under the leadership of Col  Isidro T. Ungab GSC PA (RES), held its closing ceremony on marksmanship training and awarding of military medals and donning of ranks for newly promoted and newly commissioned reservist officers at the headquarters in Magsaysay Park, Sta Ana, on Feb. 26, 2023.
The activity was graced by Col  Josue M. Caberto MI (GSC) PA,  group commander, 11th Regional Community Defense Group, Reserve Command, as the guest of honor and speaker; LTC Reandrew P. Rubio INF (GSC) PA, director, 1105CDC, 11RCDG, RESCOM; together with the reservist officers and enlisted reservist and some regular personnel from the 11RCDG and 2202RRIBde.
A   total of   109   reservist personnel graduated from the training,  51 were recipients of the Bronze Cross and Military Commendation Medals, ten were promoted to the next higher rank, and eight were newly commissioned reservist officers.
Likewise,  Unbag committed to serving the Reserve Force and reminded everyone to continue to perform their mandate. He also stressed the importance of marksmanship training in anticipation of any eventualities.
On the other hand, Caberto appreciated the efforts of the 2202RRIBde for its continuing efforts and contribution to the mission of 11RCDG  and RESCOM. The activity is one way of boosting the morale of our reservist personnel in recognition of their invaluable support and dedication to duty in line with the Reserve Force Development, Caberto said. (1105CDC)