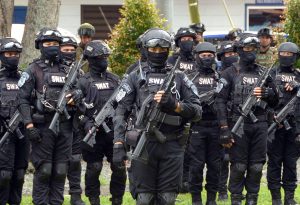 DCPO completes security plan for Araw ng Dabaw, Iron Man events 
AT LEAST 2,000 law enforcers will be deployed to provide security to the activities of the Araw ng Dabaw celebrations and the Iron Man 70.3 triathlon race next month.
"Andam na ang Davao City Police Office para sa Iron Man event. In fact, naka-line up na gyud ang tanang activities from March 1 to March 31 (The Davao City Police Office is ready for the Iron Man event. In fact, all activities from March to March 31 are already lined up)," said DCPO spokesperson Major Catherine Dela Rey said in an interview on Monday.
For the most significant events in March, the DCPO will work with the Police Regional Office XI (PRO XI), which will augment the security force of the DCPO, auxiliaries, and other force multipliers.
"Mu-augment ang Police Regional Office og 300 ka security personnel para sa Araw ng Dabaw kay ang atoa man pud pinakadako na deployment kay ang March 18, mao ng Parada Dabawenyo, na 2,000 ka personnel atong i-deploy (The Police Regional Office will be augmenting our forces with 300 of their security personnel for the Araw ng Davao because our biggest deployment will be on March 18 which is the Parada Dabawenyo where 2,000 personnel will be deployed) 
The Parada Dabawenyo on March 18 is the culminating event of the city's foundation day. Security personnel will fan out for the Iron Man event as early as March 23.
At least 1,000 security personnel are assigned for the Iron Kids race on March 24, and another 1,000 will be deployed to secure the Iron Girls Marathon on March 25.
The main race, the Iron Man 70.3, will be held on March 26 and will have at least 2,950 security personnel. Of these, 1,200 will be from the Philippine National Police, 500 auxiliaries and 1,250 force multipliers.
For Iron Man, the DCPO will provide security within the city's borders, beyond which the security forces of Davao del Norte will take over. 
Citizens are advised to plan their travels on that day, or if possible, to avoid unnecessary trips due to the expected traffic during the sports event. The northbound lane beginning Azuela Cove will be closed.