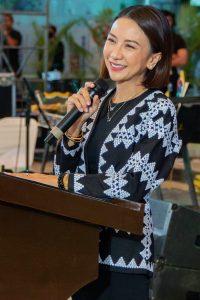 Around 10,000 Tagumenyos participated in festivities, on top of the more than 6,000 musical artists who performed and competed in the recently concluded Musikahan sa Tagum 2023 last February 16 to 19 in Tagum City, Davao del Norte. 
The longest-running music festival in Mindanao celebrated its 20th anniversary this year. 
Among the guests who joined the festival's opening was Department of Tourism XI Secretary Christina Garcia Frasco, who was warmly welcomed by City Mayor Rey T. Uy and wife Alma, the president of Tagum City Tourism Arts and Culture Council, Inc and Musikahan Sa Tagum 2023 festival director, and DOT Xl Regional Director Tanya Rabat-Tan. 
"I can see that the soul of Tagum City rests in music. That is your cultural offering. That will ultimately distinguish you as the musical capital of this region," Frasco said. 
She also recognized the local government's admirable initiative through the festival that has run for 20 years, producing world-class performers and instrumentalists. 
In her speech, she divulged new developments initiated by her agency, including the 139 international cruise ships that will traverse 39 destinations across the Philippines this year; the launching of the Philippine Experience program in April, a heritage, arts and culture caravan that showcase lesser known and emerging destinations; and the Bisita, Be My Guest program, an incentive program for OFWs and balikabayans. 
This year's well-attended Musikahan events include the Pasiklaband (Battle of the Bands), Rondal-Awit, Musikahan Music Video, Musikahan Sa Barangay, Musikahan Goes Digital, SPA Poetry in Motion, Himig Handog Choral Competition, Musikahan Outreach, among others, with participants from Manila, Tarlac, Agusan, Koronadal, Gen Santos, Bukidnon, North Cotabato, South Cotabato, and Davao City. 
Award-winning Loboc Children's Choir and the NCCA Rondalla also perfomed as well pop and rock artists Andrew E, Bamboo, Plethora Band and ILT Band during the celebration. 
Mindanawon artists Joey Ayala, Popong Landero Organization, Waway Saway and the Talaandig Republic, Anima Tierra, Kuntaw Mindanao, Mebuyan, Kaliwat and Kalumon will perform in the Musikahan World Music Concert on February 23, to cap the successful festival. 
"Musikahan Sa Tagum is only the beginning. As your city mayor, I assure you that we will continue to achieve harmony, unity and innovation in our city," said City Mayor Rey T. Uy. 
This year's theme is" Musikahan: Pagpalig-on sa Kabag-uhan, Kahuusahan ug Kadaugan". 
Additional photos courtesy of Tagum Tourism and Cultural Office.