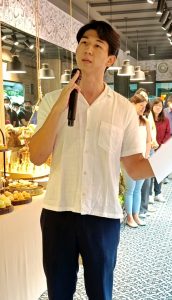 Mother's Produce, perhaps Davao's largest one-stop-shop for fresh fruits and vegetables, opened its doors to the public last February 11, along JP Laurel Avenue. 
"It all began with Mother's Choice in 2000 as a simple and quaint store along Monteverde Avenue, where we sell imported fruits by the box," said Jonathan Bangayan, whose family owns the store and the adjacent Pet Zoofari. 
After 23 years, the store has spun off around 20 wholesale stores, supplying fruits to major public markets and supermarkets around key cities in Mindanao. 
To better serve their growing clientele and expand the potential of the business, the Bangayan family decided to open a new store that will offer a diverse variety of fresh produce all under one roof. 
"With Mother's Produce, we want to explore new products, new recipes, and new ways of serving our customers — maximizing what is already there," said Bangayan. 
Mother's Produce features a walk-in chiller (where fruits and vegetables are sold cheaper by the box); a full line of local, imported, and exotic produce on display; a gift corner (specially curated gift boxes and baskets); array of salads, juices, sauces, dressings, frozen smoothies, etc (made with the same produce displayed on the shelves); and potted herbs section (a partnership with Care Channels Inc, an NGO that empowers the marginalized to gain financial, health and spiritual stability). 
"We are proud to be able to work with an organization with such a noble cause," added Bangayan. 
During the ribbon cutting ceremony, Bangayan was joined by relatives Gene Bangayan, Ruben Bangayan, Wilson Bangayan and Architect and TIMES columnist Michaelangelo Dakudao. The store blessing was officiated by Father Jose Marie Esquadro.