WHEN Rogelio "Kap Budoy" Canales invited me for a preview of Mixed Temptation's Valentine's Day culinary offering five days before the Day of Hearts, I began to wonder.  Mixed Temptation is quite well known as one of Davao's best Chinese restaurants offering Cantonese cuisine.  I wondered then if the Chinese citizens of the Peoples Republic of China even observe Valentine's Day celebrations.  Google, naturally, came to the rescue.  Surprisingly, indeed, the Chinese have their Chinese Valentine's Day known as Qixi Festival which is also known as the Double Seven Festival. 
It falls annually on the seventh day of the seventh month on the lunar calendar.  The QiXi Festival, according to records, has been observed over 2,000 years; and it dates back to a romantic tale of two star-crossed lovers named Zhinhu and Niulang from the Han Dynasty.  With global Westernization, however, it's the younger generation of Chinese who now celebrate Valentine's Day on February 14.  Lucky for China to be celebrating Love on February and July yearly.
     Naturally, on the Day of the Heart, couples find the time to express their love, which is usually done with gifts, like chocolates and roses, plus a fine dinner to spend time together.  "We want married couples and young lovers to enjoy a nice dinner.  This is why Mixed Temptation is launching for the first time its Valentine Special Buffet Menu to create a romantic night for couples to strengthen their loving bond with each other," so revealed Rogelio "Kap Budoy" Canales with his ever supportive wife, Almarie, standing beside him smiling.  Mixed Temptation was all ready for the Day of the Heart with the restaurant heartily decorated to create that air of romanticism. 
A stage for a photo shoot was set up with the huge letters spelling love enclosing a huge pink heart figure outlined in white lace and with the words "Be My Valentine" written at the center of the heart.  The restaurant's interior, itself, is painted mostly in red.  In Chinese culture, the color red symbolizes luck, joy, and happiness; while representing celebration, vitality and fertility.  Take note that red is the traditional color worn by Chinese brides as it is believed to ward off evil.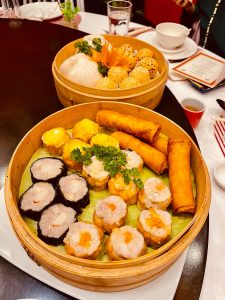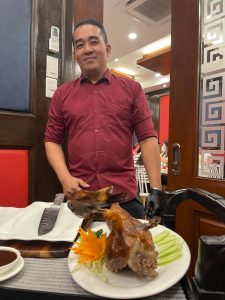 Kap Budoy and Almarie warmly welcomed guests that busy Friday evening before Valentine's Day.  The staff of Mixed Temptation are friendly and polite; and well trained by Kap Budoy with the goal to give the best in customer service.  Kap Budoy truly had a good experience while working at the Lotus Court of Marco Polo Davao.  The hardworking Kap Budoy worked his way from being a waiter on call to becoming head captain of Lotus Court. He was even given the recognition as Marco Polo Davao's Employee of the Year.
     That special evening at Mixed Temptation, Kap Budoy and his service crew served pork asado, squid in a chili sauce, Hainanese chicken, and century egg slices in a platter for appetizer.  The dimsum consisted of several kinds of siomai, chicken feet, Shanghai roll, pork and chicken bun which came served in a Chinese bamboo basket steamer.  Next came the savory Nido Birds Nest soup which I truly savored as I missed this soup through all these years.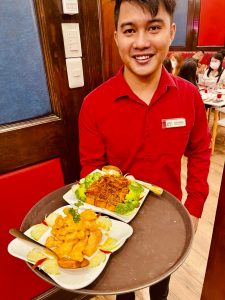 The main course was comprised of the mountain fried rice, my favorite delicate tofu with enoki mushrooms, garlic chicken, pata tim, beef tenderloin with black pepper, steamed pompano with a special soy sauce, and bam-i.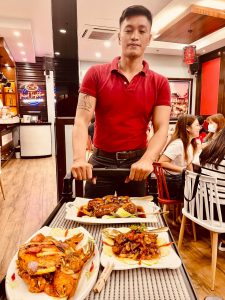 Yes, not to forget the fat crabs.  For dessert, Kap Budoy served his well-loved buchi with chocolate and matcha fillings.
     What a night of Mixed Temptation delights.  It felt like Valentine's Day, indeed. Thank you, Kap Budoy, Almarie and the staff of Mixed Temptation.