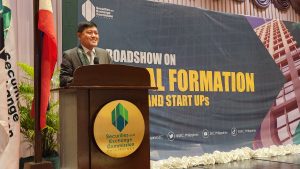 The Securities and Exchange Commission (SEC) has officially started its nationwide roadshow that seeks to bring the capital market closer and more accessible to micro, small and medium enterprises (MSMEs).
More than a hundred officials and executives of MSMEs gathered at the Pinnacle Hotel in Davao City today, February 15, for the start of the SEC Roadshow on Capital Market Formation for MSMEs and Start-ups.
Attendees included companies, national government agencies such as the Mindanao Development Authority and the Department of Trade and Industry 11, as well as local government units, including the Province of Cotabato.
The initiative is in line with President Ferdinand R. Marcos, Jr.'s thrust to provide different financing options for MSMEs, given their further potential to contribute to the Philippine economy.
The MSME network currently accounts for 99.5% of total businesses in the country. It hires 63% of the local workforce, constitutes 25% of the country's total exports, and contributes around 40% to the national gross domestic product.
"However, 67% of our MSMEs are still experiencing credit constraints. Most of them rely on internal resources for their capital needs. While those who apply for traditional bank loans face tedious documentation, high interest rates, and mandatory collateral requirements," SEC Chairperson Emilio B. Aquino said in a keynote speech.
"Hence, in our bid for financial inclusion, we recognize that there really is a need to broaden the financing instruments available for MSMEs."
The roadshow presented crowdfunding, among others, as an easy and accessible way for MSMEs and start-ups to raise funds for business expansion.
Crowdfunding is a fundraising activity typically conducted by start-ups and SMEs, where the public can support or fund a business idea through an online platform.
SEC Memorandum Circular No. 14, Series of 2019, or the Rules and Regulations Governing Crowdfunding, provides that SMEs no longer have to register securities with or secure approval directly from the SEC before they can solicit investments from the public. SMEs need only conduct their fundraising activity with a crowdfunding intermediary, funding portal, or crowdfunding platform registered with the SEC.
There are currently three registered crowdfunding intermediaries registered with the SEC, namely Investree Philippines, SeedIn Technology, Inc., and Eastern Securities Development Corporation (Round One).
As of December 2022, a total of 205 registered issuers have successfully raised capital through the platforms of Investree and SeedIn Technology. SeedIn Technology's platform alone has seen a total of P1.34 billion raised to fund 259 projects during the same period.
Executives from Investree Philippines, SeedIn Technology, and Round One discussed the advantages of crowdfunding and how MSMEs and start-ups can avail of their services during the roadshow. MSMEs were then given an opportunity to consult with their officials during break-out sessions.
"[The roadshow] will surely make opportunities more accessible for micro, small and medium enterprises that may lead toward their growth and expansion. We appreciate [the SEC's] efforts to help small business owners resume their operations as they recover from the pandemic's efforts," said Davao City Mayor Sebastian Z. Duterte in a written message.
The roadshow was led by the newly created SEC Office for the Advancement of Strategic Investments in SMEs (OASIS), which aims to encourage SMEs to explore the capital market as a means to acquire external financing.
The initiative is also part of the Commission's 888@88 goal, which means that there should have been at least 888 companies that tapped the capital market by the time the SEC celebrates its 88th anniversary in 2024.
"Instead of being a place from which to draw water, OASIS will be a place where small businesses can draw their much needed capital…At the present, we have 286 listed companies in the Philippine Stock Exchange. With these new programs and initiatives we are introducing, we are hopeful that this number will start to increase significantly," Aquino said.
The Commission will be bringing its monthly roadshow to other areas in the country, including Cebu, Cagayan de Oro, Zamboanga, Bacolod, Legazpi, Iloilo, Tarlac, Baguio, the CALABARZON region, and Metro Manila for the rest of the year.