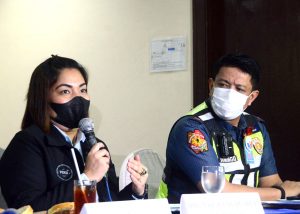 The Philippine Drug Enforcement Agency (PDEA) XI reported that it has cleared 932 out of the 1,162 barangays in the region.
PDEA XI chief Naravy Duquiatan told reporters during the AFP-PNP press briefing at The Royal Mandaya Hotel that of those clearned barangays, 95 are in Davao City out of the 178 barangays identified as affected by illegal drugs.
Duquitan said the agency is still working on the clearing of the remaining barangays.  "We can't achieve it within the year but we are doing our best to clear the remaining barangays in the city," he said.
Of the cleared towns, the record of the agency stated, two are in Davao Del Norte, one in Davao del Sur, one in Davao Oriental, two in Davao Occidental, and one in Davao de Oro.
"So with this record we are doubling our efforts so that we can help our local chief executives and local government units in the clearing process," she said.
The huge challenge after clearing these communities of illegal substances, is sustaining the momentum. "That's why we are conducting quarterly and semestral monitoring in our barangays so if ever there are drug personalities who will enter their barangay it is the responsibility of the barangay officials to report to the police and PDEA to identify them," she added.
If these officials do not act immediately, they will be given additional three days to make decisive steps, she added.
"You will also notice that even though the barangay is cleared (of illegal drugs) there will be continuous operations," she said, pointing out that only few barangay officials in the region who were identified as involved in the illegal trade.