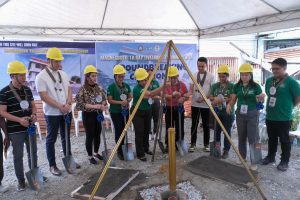 THE 'Magnegosyo Ta Day' livelihood training center will not be limited to helping women entrepreneurs and cooperatives but all micro and small businesses, said Luzminda Eblamo, City Cooperative Development Office head.
In her speech on Wednesday during the groundbreaking ceremony for the center, Eblamo said the P11.4 million center in Talomo "will be a common service facility."
"All SMEs and all marginalized sectors, which our beloved mayor has focused on like the IPs, solo parents, senior citizens, farmers, fisherfolks— all the marginalized sector in Davao City will be able to avail of the services of this training center," she added as she was joined in the event by Assistant Administrator for Operations Janis Louis Esparcia, Councilor Jessica Bonguyan, Davao City Cooperative Development Council Chairperson Agripino L. Torres, representatives from the Integrated Gender and Development Division (IGDD), Mindanao Development Authority, department heads and other public officials.
Esparcia said the city government is focusing on empowering its residents by educating them on how to put up their livelihood activities that would result in financial independence.
Reading a message from Mayor Sebastian Duterte, Bonguyan said the center will give residents better access to entrepreneurial and skills trainings.
The center, in partnership with the Cooperative Development Authority, Technical Division and Skills Development Authority, Department of Trade and Industry, Department of Agriculture and other national agencies and non-government organizations will provide trainings to those who want to learn how to set up their own businesses.