FOOD, lights and talents will become the main showcases of the upcoming Araw ng Dabaw celebration, which will be held in a face-to-face setup for the first time after the COVID-19 pandemic hit the world in 2020.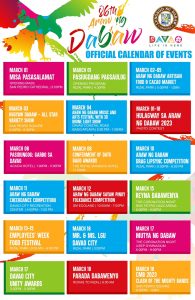 In the post on the official Araw ng Dabaw Facebook Page on Monday, the city government identified several highlights of the celebration for the city's 86th founding anniversary.
To signal the start of the celebration will be the opening mass and the Pasiugdang Pagsaulog at Rizal Park on March 1. Another feature which will happen between March 1 until March 18 will be the Hulagway sa Araw ng Dabaw photo contest.
Starting on March 3 at the San Pedro Square, Dabawenyo talents will be showcased with the holding of the the Hugyaw sa Dabaw- All Star Variety Show.
Starting March 4 at 5 pm until 1 am, residents and visitors will witness the first ever Araw ng Dabaw Music and Arts Festival with a 3D Drone Light Show on the Davao City Coastal Road, while the Araw ng Dabaw Artisan Food and Cacao Market will also start on March 2 at Rizal Park.
Among the activities on March 8 are the conferment of the Datu Bago Awards at the Royal Mandaya Hotel, and the Pasidungog: Garbo sa Davao at the Acacia Hotel.
Back-to-back sing and dance competitions are also slated on March 10-12, starting with the Araw ng Dabaw Drag Lipsync Competition at the Rizal Park on March 10, Araw ng Dabaw Cheerdance Competition at the Davao City Recreation Center or commonly known as Almendras Gym on March 11; and Araw ng Dabaw Sayaw Pinoy Folkdance Competition at SM Ecoland on March 12.
On March 15, the Reyna Dabawenya Coronation Night will be held at Rizal Memorial College, Petro Gazz Arena, and on March 17 the Mutya ng Dabaw Coronation Night will also be held at the University of Southeastern Philippines Gym.
Employees of Davao will also enjoy the Employee's Week Food Festival at the Rizal Park starting March 13 and on the 16th will be the Mr. and Ms. LGU Davao City to be held at the Rizal Park.
The Davao City Unity Awards will also be held on March 17.
To mark the last day of the festivities on March 18 is the Parada Dabawenyo that will enliven the city streets starting from Roxas to Rizal from 6 am.
To close the day with sound and music, CMB 2023 Clash of the Mighty Bands will also be witnessed by Dabawenyos at San Pedro Square from 6 pm to 12 mn.
The City Government of Davao invites all Dabawenyos to the celebration of the 86th founding anniversary of the city and enjoy the meaningful and memorable activities the city has prepared.