The Regional Trial Court has junked for insufficiency of evidence the murder case filed against former police official Leonardo Felonia in the killing of businessman Richard King in 2014.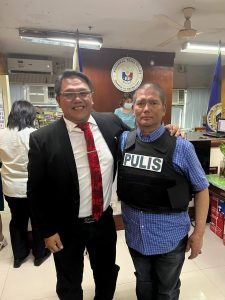 In a decision released on Tuesday, RTC Branch 14 Acting Presiding Judge Gerardo Braganza stated the prosecution failed "to establish the moral certainty required to convict" Felonia as among the conspirators in the murder of King.
The decision explained the prosecution failed to show evidence that Felonia indeed conspired with others in committing the crime that saw King getting killed inside his office on June 12, 2014.
"The court reiterates that the act or declaration of a conspirator relating to conspiracy and during its existence maybe given in evidence against a co-conspirator, but after the conspiracy is over, it must be show by evidence other than such act of declaration, hence, the prosecution has fallen short of the parameters," the 22-page ruling pointed out.
Among the failures of the prosecution, the decision pointed out, was the contradiction in the testimony of state witness Dave Labang who, at the start of the investigation, was among the accused.
The court pointed out that while Labang claimed he visited Felonia at the Regional Intelligence Unit two days before the incident, "however independent evidence tells otherwise." The visit would have fortified the evidence that would link Felonia as the mastermind and Labang as the gunman in the murder.
Also included respondents in the charge sheet were brothers Rodel and Rommel dela Cerna.
Records of the case also showed that Rodel, a manager of a shooting range reportedly frequented by Felonia, was the driver of the motorcycle used in the crime, and brother Rommel was the lookout.
Lawyer Caesar Europa, Felonia's legal counsel, said: "(W)e are very happy with the decision. You know it was a long, hard fought case especially for Col. Felonia," Europa said as the latter had been detained since the start of the case.
The lawyer added that the ruling on the case will become the basis for Felonia to request that his benefits as a police officer be reinstated, although the issue has yet to be discussed.
King, a businessman from Cebu whose companies include several hotels and producer of health products, was shot dead inside his office.