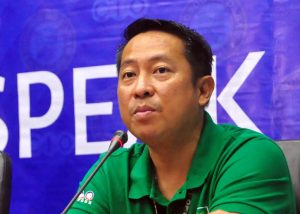 THE City Civil Registrar's Office will deploy a mobile registration program at the Bureau of Jail Management and Penology on February 11 and 12 as part of the Civil Registration Month celebration.
Another highlight of the event, said lawyer Leo Braceros, head of the office, is the conduct of a school-based registration on February 28 at the Alon Elementary School in Barangay Malabog, Paquibato District.
The registration will address the need to register members of the indigenous peoples as well those living in far-flung areas.
These activities, Braceros added, aim to enhance the civil registration system as well as clear the misconception about the system and the issuance of certificates.
"Just to correct the misconceptions– sometimes if there are errors found on certificates, they blame the local civil registrar but under the law, we are not the ones mandated to prepare your certificates," Braceros said.
For instance, he said, hospital personnel prepare birth certificates while funeral homes prepare the death certificates.
"That is why we feel the need to regularly conduct enhancement training for those responsible for the preparation so that we can also give updates on changes in policies with respect to civil registration," he said.
He said that on February 23 and 24, the office will hold an orientation on Civil Registration Laws and will be participated by government agency employees, school registrars, hospital and clinic personnel, funeral homes personnel, and other stakeholders.
The office will also hold an enhancement training on Civil Registration Laws for its employees on February 25. 
The celebration kicked off on Monday with a holding of a motorcade initiated by the Philippine Statistics Authority.