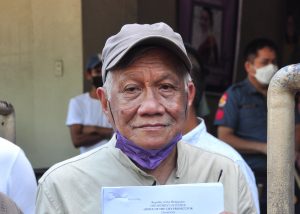 Dr. Walden Bello, through his counsel, on Thursday refused to enter a plea over the cyber libel case filed against him by former city information officer Jefry Tupas.
Because of the refusal of Bello during his arraignment before the Regional Trial Court Branch 10, Judge Retrina E. Fuentes entered a not guilty plea for him.
In a statement, Bello's counsel said: "In deference to the judge's strong recommendation, a 
peaceful resolution is being explored by the Davao-based lawyers of both parties. Even as these discussions are taking place, we are going ahead to raise legal questions on cyber libel brought up by the case against Walden to the Supreme Court."
Bello has been trying to appeal before the court to dismiss the case, saying that Tupas cannot rely on the presumption of malice claim because the latter was a public official when he filed the case.
Tupas filed the case alleging that Bello, through social media posts, accused him of being involved in illegal drugs over an incident in November 2021 where several individuals were arrested. 
Among his arguments, Bello, in his previous petition, said: "In order to constitute libel, it is required that they were false and made with knowledge that they were false or with reckless disregard of whether they were false or not." 
The same petition added that the court "is divested with jurisdiction in cases where it is palpable that the criminal proceedings are acts of persecution rather than prosecution."
He said Tupas was not the subject of the articles as these were a challenge to then mayor Sara Duterte to appear before the televise debates as the posts were done during the 2021 elections.
Both Bello and Duterte were running for vice president during that time and the latter came out the winner.