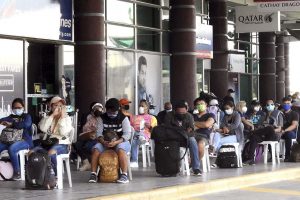 DAVAO CITY (MindaNews) – The Bureau of Quarantine (BOQ)-Davao has been directed to monitor all passengers with travel history to China at the Davao International Airport.
During Kapehan sa Dabaw on Monday, BOQ-Davao medical chief Dr. Noreen B. Espero said passengers would be checked for signs and symptoms of COVID-19 if they have traveled to China within 14 days from their arrival in Davao.
China was reportedly experiencing a resurgence of COVID-19 cases.
She said medical officers of BOQ-Davao will reevaluate the passengers' information in the eTravel platform of the government, which is required for arrival in the country by the Inter-Agency Task Force for the Management of Emerging Infectious Diseases (IATF-EID).
She said no additional testing requirement for COVID-19 has been enforced for travelers from China, except for unvaccinated and partially vaccinated international passengers.
"We do not have any IATF protocols on Chinese travelers in addition to what we are doing…No additional tests to be done for those coming directly from China," she said.
She said direct flights from Davao to China have not resumed yet.
But she added that airport authorities are not discounting the possibility that international passengers may have traveled to China before they arrive in the city.
Dr. Rachel Pasion, head of the Regional Epidemiology and Surveillance Unit of the Department of Heath-Davao, said cases of COVID-19 in the region are continuously decreasing.
As of January 15, she said the total active cases were reported at 206 cases with 3.2% case fatality.
Of this total, she said 69 are in Davao City, 47 in Davao del Sur, 40 in Davao del Norte, 28 in Davao de Oro, 19 in Davao Oriental, and 3 in Davao Occidental. (Antonio L. Colina IV/MindaNews)