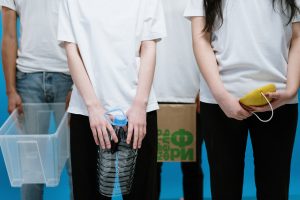 THE City Environment and Natural Resources Office (CENRO) has urged business establishments to come up with a comprehensive solid waste management plan that they can implement.
The plan is necessary, pointed out, so they could be issued a certificate for their operations.
"Ang purpose sa solid waste management plan, regarding ni siya karon sa iyahang sistema sa paglabay niya, pag-manage sa iyahang basura. So once na mag-inspection mi then mu-comply siya sa requirements. ang isa lang gyud ka major requirement is the solid waste management plan," said Engr. Marivic Reyes, head of the office on Friday.
Although the certificate is required for those applying for new business permits based on the Solid Waste Management Ordinance in 2009, Reyes said, the businesses should follow their respective management plans so they will not be punished. 
"Naa sa balaud na ang usa ka establishment kung nag-operate siya sa iyang business without a Solid Waste Management Certificate, ma-penalize siya kay naa siya'y violation sa atong ordinance ug naa siya'y penalty nga P5,000," she explained as they will be inspected regularly to determine their compliance. 
The plan must contain segregation schematics, collection points, the disposal schedule, and other waste management details to ensure that only residual garbage would be collected by the office.
If a business is found violating its plan, it can reapply for another certificate after complying with the penalty.
Reyes said the city government is intensifying its campaign on waste management due to the amount of garbage that the city has generated as during the height of the COVID-19 pandemic, the city generated about 223,431 tons of garbage, 254,750 tons in 2021 and 285,829 tons in 2022. 
The wastes have been brought to the sanitary landfill which has been full, although Reyes said there have efforts to minimize the waste production as the office collects about 700 tons of garbage a day.
"Kung subayon nato ang pag-study, naa gyud pagkunhod ang atong collection. Dili lang ma-feel sa kadagahnan, dili ma-feel sa mga Dabawenyos usually because nag-increase pud ang atong mga subdivisions, naa ta'y incoming na mga condos," Reyes said. 
The city government, through Councilor Temujin Ocampo, has pushed for the implementation of the waste-to-energy project which will convert garbage generated into fuel for a power plant.
However, environmental groups have opposed the project saying that the method will still result in environmental problems because it will generate harmful chemicals.