INOCULATION against the COVID-19 virus will now be solely available in the district health centers as Davao City formally dissolved its vaccination cluster.
This means that mobile vaccinations and vaccination hubs in malls had ceased operations, relegating the immunization campaign to the city's 18 district health centers.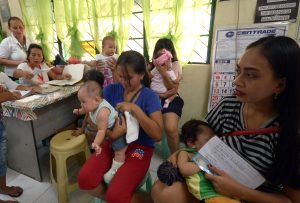 "Nag close na mi atong December 30 apan tanan vaccination activity gi-endorse na namo sa City Health Office para himuon na sa kada district health offices (We closed on December 30 but we already endorsed all vaccination activities to the City Health Office to be done by each district health offices)," said Davao City COVID-19 Vaccination Program head Dr. Josephine Villafuerte during the Madayaw Davao program of the Davao City Disaster Radio on Wednesday. 
"Ang vaccination naa na sa mga district health offices, so naa silay schedule nga gihimo kada semana— once a week (The vaccination are now in the district health offices so they created a weekly schedule—once a week)," she added.
Since Davao City has already reached 100 percent vaccination rate and has only a little work left to do in terms of administering booster shots to the pediatric demographic, dissolving the vaccination cluster is only pragmatic, said Villafuerte.
Though the city's vaccination cluster will no longer be carrying out vaccination drives, its function as a vaxx certificate issuer will remain. 
Vaxx certificates are still being issued in the Santa Ana health center where the swabbing center was also recently stopped to make room for its intended function as a specialized health clinic for the elderly, children under five years old, and as a milk bank. 
In addition, some malls will also be housing Vaxx certificate centers. Vaxx cert issuance remains a function of the vaccination program as the document still serves as a travel requirement. 
Though the city's vaccination cluster is now dissolved, this does not mean the vaccination campaign will cease, Villafuerte said, especially since the vaccine has effectively reinforced the population's immune system against the virus, rendering vaccinated patients with only "very mild" symptoms when infected. 
The district health centers will simply add to the COVID-19 vaccine to their list of health programs, Villafuerte added, as she urged Dabawenyos to avail of the vaccine in the districts as well as other health services and programs offered there, including pneumonia and flu vaccination. 
City Health Office acting head Dr. Marj Culas said that people can get their primary COVID-19 vaccines or avail themselves of booster shots at the nearest district health center on Fridays, from 8 a.m. to 4 p.m.