THE CITY Treasurer's office announced that business tax payments through Paymaya and Gcash are now open.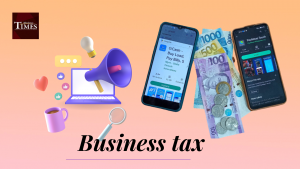 City treasurer Lawrence Bantiding, in an interview with the Davao City Disaster Radio on Tuesday, said that Davaoeños who own businesses can now pay taxes online using Paymaya and Gcash through the Development Bank of the Philippines (DBP) portal.
This is part of the option for the annual Mayor's Permit Renewal for 2023.
DBP and Landbank are the partner banks of the City Treasurer's Office (CTO) for the online payment of taxes.
"Ang Paymaya and Gcash naa na nga facilidad sa DBP online portal (Paymaya and Gcash are facilities made available at the DBP online portal)," Bantiding said, adding that they are hoping taxpayers would avail of the online payment platform, wherein all processes can already be accomplished – from application to payment to the issuance of business permit.
Online payment is also an available option for taxpayers. For online renewal of business permits, they may visit https://appbts.davaocity.gov.ph.
Davaoeños may also pay their taxes and regulatory fees online through Landbank and DBP: https://www.lbp-eservices.com/egps/portal/index.jsp, https://filipinopay.com/dbp.
"Last year, na implement nato ning full online. We are hoping nga daghan og mag-avail ani kay naa pud ta'y personahe nga dedicated nga mutan-aw para sa atong online applications. (Last year, we implemented this fully online. We are hoping that many would avail of this because we also have assigned personnel dedicated to monitoring our online payments)," he said.
Bantiding expects more taxes collected from businesses this year after the lifting of COVID restrictions.
To achieve the target, the CTO and business bureau have opened a total of ten processing sites for the district, where business owners can transact face-to-face.
The processing locations are the SP Building for Poblacion District; Almendras Gym for Talomo and Agdao Districts; NCCC Mall Buhangin for Buhangin District; Calinan Gym for Calinan District; Baguio District Treasury Office for Baguio District; Marilog District Treasury Office for Marilog District; Tugbok District Treasury Office for Tugbok District; Toril District Treasury Office for Toril District; Bunawan District Treasury Office for Bunawan District; and Paquibato District Treasury Office for Paquibato District.
Bantiding said that for convenience, taxpayers must pay at the designated processing locations near them to avoid congestion.
For the year 2023, the CTO targets to collect Php 2 Billion in business taxes or an increase of Php 400 million from the 2022 target of Php 1.6 Billion.
"Mao ni ang crucial nga period sa siyudad para makab-ot nato ang target karon kay ang business permit taxes comprise 41 percent sa atong local taxes nga collection nato, so dako-dako kaayo nig impact sa panudlanan sa atong syudad kaning mokolekta nga taxes sa business operations diri sa siyudad sa Davao ( This is a crucial period for the city to achieve its target now because the business permit taxes comprise 41 percent of our local taxes collection, so it is a huge chunk and has a huge impact on our city's treasury, this fund that we can collect from the business operations)," he said.
Bantiding urged taxpayers to pay their dues during the one-stop-shop Mayor's Permit Renewal until January 31 to avoid surcharges.
"Sa atong taxpayers mas labing maayo kung mas sayo sila magpa-renew para mas sayo pud ta mahuman ug mugawas ang ilahang business permits kasi kung lampas sila sa atong renewal period karong January 31 dako mag gud ang penalty ana. Ang surcharge is 25 percent sa ilahang tax due, apil ang ilang regulatory fees nga mag 25 percent nga surcharge, so dako kaayo. Two percent ilang interest per month, so the earlier [ang payment] mas maayo (To our taxpayers, it would be best for them to renew early so that their business permits will be processed earlier and can also be released immediately because if they pay beyond the renewal period on January 31, the penalty is huge. The surcharge is 25 percent of their tax due and the regulatory fees are already included in that 25 percent surcharge so it is quite big. The interest per month is also two percent so the earlier the payment the better)," Bantiding said.
For the schedule of processing sites, Davaoeños may access it through the City Government of Davao's Facebook page or they may contact the Business Bureau: (082) 241-1000 local 381 and the City Treasurer's Office: 082) 241-1000 local 386 for more details.