THE 1001ST Infantry Brigade commander denied the allegation that he was involved in the murder of a businesswoman-model who was shot to death outside her rented house in Green Meadows Subdivision last Dec. 29.
In a text message, Brig. Gen. Jesus Durante III said the victim, Yvonnette Chua Plaza, 38, was his friend.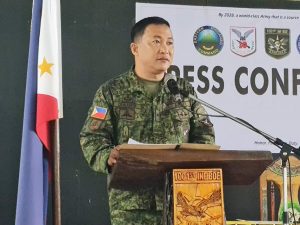 Durante said "My name is being dragged based on an FB post made last April 2022 wherein I allegedly hurt her. She later retracted the post and issued a statement that I did not in any way harm her."
"I am deeply saddened [by] her demise and condole with her family and friends. I myself demand justice for Yvonne," he added. 
On Tuesday, city police director Col. Alberto Lupaz, also the Special Investigation Task Group Yvonette commander, said they have already two persons of interest in the case. One individual was cited on a social media post.
"We have directed our station commander, together with CIDG and cybercrime group, to investigate the post on social media when it comes to its authenticity and when it was posted and if the person the posted is that really authentic person and he/she has really Facebook post," he said.
"Another thing is what she posted is really true or she has personal knowledge," Lupaz said. "These are the items that are being pursued by the CIDG. We will try to see if all of these things are really true so we can determine that later (in another SITG meeting)."
But the city police director declined to provide more details as it will scuttle the ongoing investigation. "It's really premature to comment for us to give names posted on social media."
The other person of interest was the subject of a case the victim filed against, although Lupaz balked at giving more information. 
Police Regional Office XI spokesperson Major Eudisan Gultiano said they are also studying the CCTV footage showing the two perpetrators killing the victim. 
"Just the reason bakit nagkaroon nang public attention kasi may alleged involvement nang official," Gultiano said. "We do not confirm yet the involvement of somebody based on what's posted on social media," she added.
Gultiano reiterated they can't give further details on the description of the persons of interest. But the Regional Anti-Crime Unit and Criminal (RACU) XI Investigation and Detection Group (CIDG) XI were tasked to pursue the leads.
Motive in killing 
Gultiano said they already ruled out robbery as the motive in the killing. But they are entertaining all possibilities, including the victim's love life or the alleged road rage incident posted on social media. 
"Ang unang ginawa nang gunman talagang binaril agad. Gusto pa nya barilin ulit bat nag jam ang baril saka kinuha ang bag," she said."We are still looking if there are people behind the gunmen."
Lupaz added they also recovered the phone, iPad and other gadgets of the victim, which they hoped could lead to a break.
Background of the victim 
Plaza was a businesswoman and a model.
When asked if she already received threats before, Gultiano said they are still waiting on the result of the forensic investigation into the victim's gadgets.
Also, Lupaz said they are reaching out to the parents of the victim since they had just arrived in Davao cCty.
"Hindi pa nakuha mensahe nng parents kasi kakarating lang nila," he said, adding that they are looking at a timetable of two weeks to have a better grasp of the case.
Mayor Sebastian Duterte already instructed the city police office to solve the case as early as possible.
Gultiano said they created the SITG because the incident already stirred the attention of the public. The purpose of the team is to resolve the case quickly and file a case against the perpetrators.
"Reason lang na nag-create ng SITG kung hindi mga politko ang biktima ay kung sensational sya."
 Plaza was shot dead in front of her rented house at Purok 18, Buttercup St, Corner Bluebell St, Green Meadows, Barangay Sto. Niño, in Tugbok District.
"SITG Yvonette" is headed by Col. Thor Valiente Cuyos, PRO 11 deputy regional director for operations as SITG Supervisor; DCPO chief Col. Alberto Lupaz as Task Group (TG) commander; and Major Randy Rajah Ramos, Criminal Investigation and Detection Group chief, as assistant TG commander.