THE POLICE announced a P1 million bounty for any information that would lead to unmasking the killers of a businesswoman-model inside Green Meadows Subdivision in Tugbok last Dec. 29.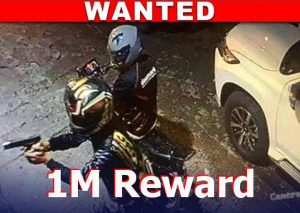 City police director Col. Alberto Lupaz, also the head of Special Investigation Task Group (SITG) Yvonette, said the reward money to give justice to Yvonette Chua Plaza, 38, was donated by individuals who wanted to remain anonymous.  
"Eto ang picture nakuha namin sa crime scene naka cover ang kanyang mukha (gunman) but definitely, may nakakilala na mga tao and might give us support to fasttrack the investigation," he said during a press briefing held in the Mayor's Hall at the DCPO headquarters on Tuesday. 
The police already released a screenshot of the CCTV footage, showing the perpetrators wearing full-faced helmets. One man served as the gunman while the other served as the getaway driver.
The police described the gunman as medium-built, around 5'4" to 5'6" tall and wearing a motorcycle sublimation sweatshirt. He used a .45 caliber pistol in the murder. 
"We hope ang binigay nang mabuting tao ay makatulong sa pagpalabas nang witness soon sa pagpatay kay Yvonette (We hope the money will help surface a witness on the killing of Yvonette)," Lupaz said.