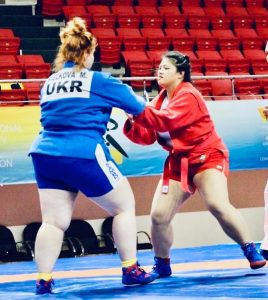 WITHOUT much fanfare, multi-awarded Judo/ Jiu jitsu/Wrestling/Sambo athletes, Sydney and Chino Sy Tancontian, came home to Davao last December 24 to spend the holidays with their parents, Paolo and Janet Tancontian.
It was a truly triumphant return as these two amazing Davaoeno athletes recently won gold medals in the University Athletic Association of the Philippines (UAAP) Season 85 Judo Championship.
Chino Sy Tancontian, who also received the Most Valuable Player (MVP) Award, definitely helped the University of Santo Tomas (UST) capture its fifth straight men's championship after a strong finish in the UAAP Season 85 Collegiate Judo Championships held at the Ateneo de Manila's Blue Eagle Gym.  Sydney, on the other hand, has been winning the gold medal for UST since the UAAP Season 82 in the Women's Judo Competition; and even earned the recognition of UAAP Rookie of the Year at that time.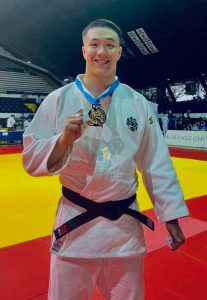 These two fine athletes have truly gone a long way since I first met them when I took Jiu jitsu lessons for self-defense under Davao's respected Judo/Jiu jitsu/Sambo sensei, Paolo Tancontian.  Paolo Tancontian is presently the Pilipinas Sambo Federation, Inc. President with Karlo B. Nograles as Chairman of the Board.  The sensei was holding his classes then at the now defunct Holiday Gym where I also did my regular workouts.  I was the oldest member of the jiujitsu class at that time while Sydney and Chino were the youngest members.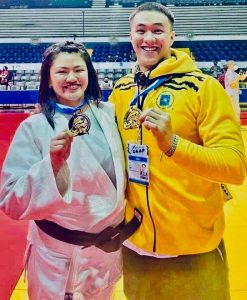 That was how my familial relationship grew with them.  We are like a family with the polite and loving Sydney and Chino making me feel like their uncle.  And yes, we always had a Christmas party for the Jiu jitsu class then by the swimming pool of the Holiday Gym.  And then, as if so suddenly, the kids grew up and had to go to Manila to study at the University of Santo Tomas which made me truly miss them.  Sydney has always been consistent with her communications with me even if she's far away which is truly an endearing trait of hers.  But every time the kids are in Davao, they never fail to visit me and of course, we would have our usual tonkatsu and/or steak meals together which they would request for.  And how they've grown into adulthood.  Happily for me, the champs still give me their kisses and tight hugs whenever we'd see each other just like they used to do when they were kids.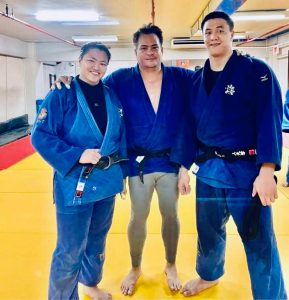 During the post-Christmas lunch in the house, both Sydney and Chino shared their accomplishments in the year that is about to end.  I am truly proud of how far they've gone with their accomplishments now that they are into their Sports Science studies as UST Athletic Scholars (thanks to Rev. Fr. Rodel Cansancio).  Sydney has been winning medals not only in competitions in the country but also those competitions held abroad.  This is one determined woman whose mantra is "No Retreat, No Surrender."  In May, 2022, she left for Vietnam where she won a silver medal in the Kurash Competition during the SEA Games.  Kurash is one of the oldest martial arts which originated in Uzbekistan.  By June, she competed in the 2022 Sambo Championship in Lebanon where she won the gold medal.  Then Sydney was headed for Turkey by September to compete in the FISU Combat Sports World Cup Sambo.  She also had her trainings in Singapore, France and the Netherlands.  By the time she returned home this December, she was ready for the UAAP Season 85 Collegiate Judo Championship which gave her a gold medal she was determined to get.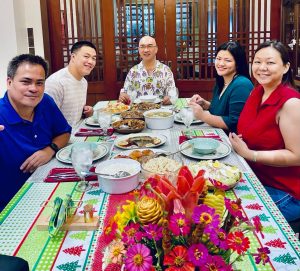 On the other hand, Chino, who has developed into a hunky six-footer of an athlete with a Manila-acquired affectation of a macho man, won his gold medal at the 2022 Indonesian Sambo Open held in Bandung last June, 2022.  He also has been training in Singapore to improve himself.
Indeed, becoming an elite athlete are markedly influenced by opportunities provided for access to sport, good level of competition,  as well as good training facilities and high-level coaching.  Sydney and Chino Sy Tancontian are, indeed, committed, highly competitive, and determined to persevere through adversities that challenge them as athletes.  I've never been so proud of you, Sydney and Chino.
Wishing everybody a Prosperous and Happy New Year.  God save us all.