After two years of deprivation of that Merry Christmas sensation, Davaoenos are back with a vengeance to celebrate the holiday season with love, harmony, joy, happiness and spreading awareness.  Filipinos have always been proud of the fact that we observe the longest Christmas celebration in this part of the globe.  Christians that a majority of Filipinos are, we believe that the Christmas tree is symbolic of the birth and resurrection of Jesus Christ.  It is a celebratory symbol based on the worship of God and the significance of an earthly life bringing peace to the world.  Indeed, for us Pinoys, the Christmas tree will always play a vital role as the iconic symbol of Christmas.  And in this modern world of instant gratification, man-made PVC Christmas trees which come in varying shapes, sizes, colors and materials are now most commonly used instead of live pine trees that the older generation was used to in the past decades.  Yes, these Christmas tree replications still retain much of the Pinoys' Christmas spirit.
     According to the Benedictine monk cum modern historian, Ambeth Ocampo, the idea of the Christmas tree was first brought to the Philippines in 1886.  Our national hero, Jose Rizal, wrote a letter from Berlin in November 1886 to his sister Saturnina in Manila where he narrated that he attended religious services in both Catholic and Protestant churches.  He wrote, "Everything that can teach me something interests me so that I can bring to the Philippines the best that I find here."  Rizal also wrote about the Christmas traditions he experienced in Germany.  "There are some beautiful and grand German customs,  like Christmas, which gives me pleasure to describe here…..On Christmas eve, they bring from the forest a pine tree, and this tree is chosen because, besides being erect, it is the only tree that keeps its leaves during winter—I say not really leaves but a kind of needle.  It is decorated with tinsel, paper, lights, dolls, candies, fruits, dainties, etc…and at night time, it is shown to the children and around this tree the family celebrates Christmas."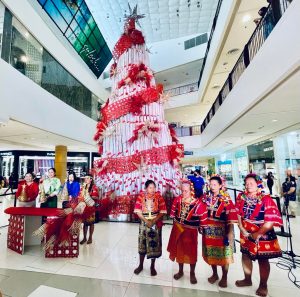 Filipinos, rich and poor alike, started putting up Christmas trees to celebrate the biggest and most fun holiday in the country only during the American colonial rule.  It has become a tradition that we are seriously observing to this day.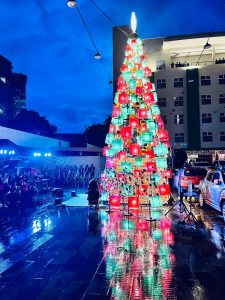 In ushering the most wonderful time of the year with hopeful anticipation of the Nativity of Jesus Christ, Davao City's premier hotels and malls have already lighted their well conceptualized and themed Christmas trees by this time.  And hotel and mall goers armed with their cellphones have been happily taking their pictures with these beautifully decorated and brightly lighted Christmas trees.  As expected, Abreeza Mall still has its towering native Christmas tree made up of bamboo poles with rattan solihiya weaves for embellishments.    The theme is a tribute to Davaoenos' spirit of resilience as symbolized by the bamboo.  The bamboo exemplifies strength, flexibility and optimism of Davaoenos.  Still the tallest Christmas tree of joyful splendor at 55 feet high was put up by SM Lanang Premier at its atrium which has attracted a lot of excited viewers of all ages.  Dusit Hotel Davao, on the other hand, had the respected Annie Paz Lim create a towering Christmas tree at the lobby shimmering in gold for a bright and blissful holiday season.  Acacia Hotel, too, has its tall Christmas tree with a fading autumn veering towards a winter look in white, silver and gold.  Under its new GM Sven Toune, Park Inn by Radisson, for the first time, opted to be different for using a Filipiniana Christmas tree of green bamboo poles with red strips and dried pandan leaves plus small woven baskets for embellishments.  Seda Hotel has also showcased its red-and-white traditional Christmas tree for all to enjoy.  As for Club Samal, it's a White Christmas-themed Christmas tree which is specially decorated with what looks like huge pearls; while the new Rogen Inn opted for an outdoor Christmas tree decorated with boxes in red and green.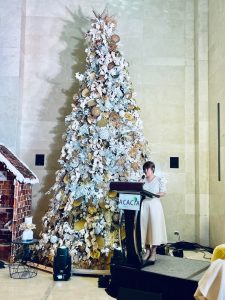 Conditions have been difficult in the country for a long time now and is further aggravated with the Covid pandemic which has taken away so many lives.  Russia's attack on Ukraine has been an ongoing malady that has affected the prices of basic needs.  Despite all these perplexing predicaments we face, may these Christmas trees show us that there will always be a bright light and hope in this world no matter what.