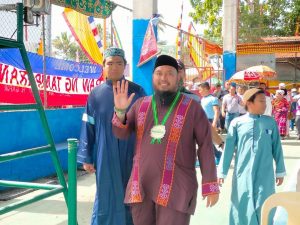 Tamparan Mayor Mohammad Juhar Disomimba reiterates his visions for the future of the tourism industry in the city to his constituents in a recent statement.
Bouncing back from the toll of the pandemic, one of Mayor Disomimba's plans to get the city back on track is to enhance its tourism through sustainable agricultural projects and the preservation of natural ecosystems that embrace local and international tourists.
"We envision the Islamic Municipality of Tamparan as an agro-ecotourism and commercial center of Lanao del Sur with God-loving, empowered citizens living in a peaceful, resilience, safe, and ecologically-balanced environment under progressive and transparent governance.," he said.
Mayor Disomimba finds President Bongbong Marcos' agricultural program as a challenge for his city to perform well and create more opportunities for local and international endeavors.
Lately, Disomimba's administration successfully revived Araw ng Tamparan as one of the city's most awaited events.
Commemorating the city's resiliency through the Marawi siege and pandemic outbreak, Mayor Disomimba saw the celebration as an opportunity to gradually amplify Tamparan's culture again as they face a new beginning.
"We are looking forward to continuing our programs and activities and efforts to uplift the lives of the citizens of Tamparan and continue improving the infrastructures needed in our Municipality," he said in his speech during the celebration.